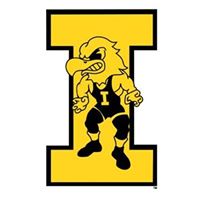 Anthony Cassioppi of  Hononegah High School (Roscoe, IL) was dominating again this weekend.  On Friday night, Cassioppi had three pins in dual meets against Montini, Dakota, and Mukwa.  Against Montini, #2- 3A at 195 lbs. Peter Christensen of Montini bumped up to wrestle Cassioppi at Hwt.  Cassioppi took him down and let him up six times before getting the fall.  He had first period pins against his other two opponents.  At the Sandberg Super Duals in Orland Park, IL today, Cassioppi had a first period fall against Oak Park River Forest (OPRF) and South Elgin.
Nelson Brands of Iowa City, IA (West HS) won the title at 160 lbs. at the Bettendorf Midwest Shootout.  Brands avenged a loss from last month when he defeated Allen Swanson of Oswego in the finals, 8-5.  Swansen defeated Brands 10-6 n the semifinals of the Dvorak on December 23.  Brands had two pins and a tech fall on his way to the finals in the 16-team tournament.  
Joe Kelly of West liberty, IA placed second at 152 lbs. at the Solon Invitational.  After recording a fall in 0:44 and 0:18, Kelly dropped a 9-8 decision to Kaden Kilburg of Lisbon (#5 – 1A) in the finals.
Cassioppi, Brands, and Kelly are the Iowa Wrestling Recruiting Class of 2018.
Round 1 – Nelson Brands (Iowa City West) 36-1 won by fall over Spencer Fillman (Davenport West) 4-6 (Fall 0:55)

Round 2 – Nelson Brands (Iowa City West) 36-1 received a bye () (Bye)

Round 3 – Nelson Brands (Iowa City West) 36-1 won by fall over Niall Schoenfelder (Antioch) 20-17 (Fall 1:47)

Quarterfinal – Nelson Brands (Iowa City West) 36-1 won by tech fall over Voyen Adamson (Bettendorf) 10-15 (TF-1.5 2:58 (20-5))

Semifinal – Nelson Brands (Iowa City West) 36-1 won by fall over Bryson Hervol (Waverly-Shell Rock) 24-10 (Fall 3:57)

1st Place Match – Nelson Brands (Iowa City West) 36-1 won by decision over Allen Swanson (Oswego High School) 29-3 (Dec 8-5)
Champ. Round 1 – Joe Kelly (West Liberty) 31-4 received a bye () (Bye)

Quarterfinal – Joe Kelly (West Liberty) 31-4 won by fall over Jaxson Howsare (Solon JV) 0-4 (Fall 0:44)

Semifinal – Joe Kelly (West Liberty) 31-4 won by fall over Kiowa Keith (Washington) 21-11 (Fall 0:18)

1st Place Match – Kaden Kilburg (Lisbon) 25-5 won by decision over Joe Kelly (West Liberty) 31-4 (Dec 9-8)