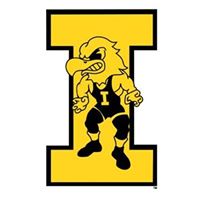 Incoming Iowa Wrestling recruits had a good showing at their conference tournaments on Saturday. Anthony Cassioppi of Hononegah High School (Roscoe, IL) recorded three falls to capture the Hwt title at the NIC-10 Conference Tournament at Rockford Boylan.  Cassioppi continues to dominate all of his competition in the very tough wrestling state of Illinois.
Nelson Brands of Iowa City, IA (West HS) also pinned his way through the Mississippi Valley Conference Super Meet at C.R. Jefferson to win the title at 160 lbs.  After two first period pins, Brands faced Ohio State recruit Josh Ramirez of Wahlert (Dubuque) in the finals where Brands won by a fall in 3:20.  In Intermats national rankings at 160 lbs., Brands is #12 and Ramirez is #17.
Joe Kelly of West Liberty, IA won his first two matches by fall and a 10-6 decision.  In the finals at 152 lbs. of the River Valley Conference tournament, Kelly dropped an 8-4 decision to Trey Brisker of Wilton (#1 – 1A).  
Next Saturday, February 3, Cassioppi and Kelly will begin their state tournament season with Brands starting his the following week.  I will keep you up to date on all of their matches throughout the tournament season for individual and dual team state results.
Cassioppi, Brands, and Kelly are the Iowa Wrestling Recruiting Class of 2018.
Quarterfinal – Anthony Cassioppi (Rockton (Hononegah)) 35-0 won by fall over Josue Pizano (Belvidere (H.S.)) 8-13 (Fall 1:31)

Semifinal – Anthony Cassioppi (Rockton (Hononegah)) 35-0 won by fall over Isaiah Batteast (Freeport (H.S.)) 20-9 (Fall 3:06)

1st Place Match – Anthony Cassioppi (Rockton (Hononegah)) 35-0 won by fall over Aydin Guttridge (Rockford (East)) 32-7 (Fall 1:48)
Champ. Round 1 – Nelson Brands (Iowa City West) 47-1 received a bye () (Bye)

Quarterfinal – Nelson Brands (Iowa City West) 47-1 won by fall over Will Stecker (Cedar Rapids Kennedy) 1-2 (Fall 1:27)

Semifinal – Nelson Brands (Iowa City West) 47-1 won by fall over Wilfred Kadohou (Iowa City, City High) 32-6 (Fall 0:45)

1st Place Match – Nelson Brands (Iowa City West) 47-1 won by fall over Josh Ramirez (Wahlert) 4-1 (Fall 3:20)
Champ. Round 1 – Joe Kelly (West Liberty) 42-5 received a bye () (Bye)

Quarterfinal – Joe Kelly (West Liberty) 42-5 won by fall over John Gadient (Cascade) 21-7 (Fall 1:49)

Semifinal – Joe Kelly (West Liberty) 42-5 won by decision over Baylor Crigger (Camanche) 40-3 (Dec 10-6)

1st Place Match – Trey Brisker (Wilton) 42-1 won by decision over Joe Kelly (West Liberty) 42-5 (Dec 8-4)