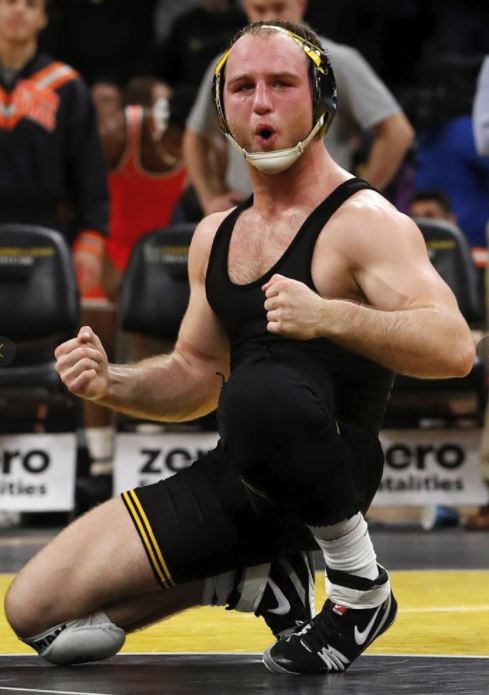 Alex "Bull" Marinelli of the Iowa Hawkeyes has arrived at 165 lbs. Indeed.  Let's back up a quick second.  I wrote a blog in the fall of 2016 when Marinelli had just arrived on campus as a true freshman as the biggest recruit to date in the Tom Brands era.  I stated in that blog that Marinelli was as good as any true freshman that I had seen in the Iowa room since Lincoln McIlravy in 1993.  I wrote another blog about Marinelli this past fall when I stated that as a redshirt freshman, Marinelli set the tone for the entire Iowa Wrestling program in practice, including the Hawk Club members.  I also talked about how Marinelli had some "Old School" to him for attitude.  This guy goes hard all of the time.
I thought about those past blogs as we all watched Bull Marinelli earn his nickname by executing a 6-point bearhug to defeat previously undefeated, number one ranked, and defending national champion Vincenzo Joseph in front of a hostile Penn State crowd of over 15,000.  I believe that when Marinelli's career is complete, we will look back at that move and match as the defining moment when the rest of the country knew what those close to Iowa Wrestling have known all along.  Alex "Bull" Marinelli is one tough hombre that will not back down to any wrestler, in any situation, and is always attacking.  And that, ladies and gentleman, is the mere definition of Iowa Wrestling.
Iowa Assistant Wrestling Coach Ryan Morningstar:
Alex Marinelli appeals to the sport.  He works at it every day.  He is not afraid of anything.  Marinelli loves the challenge and brings that to the mat every time out.
Marinelli has ran through the regular season in the rugged Big Ten and he now has the gauntlet of the Big Ten tournament to prepare for after this Sunday's dual against Iowa State.  How tough is the Big Ten at 165? FloWrestling.com has six of the top eight wrestlers and nine of the top eighteen wrestlers in the country ranked that are from the Big Ten.  That is impressive. As of Saturday's match, Marinelli was ranked fourth with Joseph of Penn State at one and two-time NCAA champion Isaiah Martinez at number two.  The quarterfinals of the Big Ten tournament will be absolutely loaded.  Even with all of that high caliber competition, I just do not see how you could bet against Marinelli.
With a background of coming out of the nationally ranked St. Paris Graham program in Ohio, Marinelli's teammates gave him the nickname of Bull.  St. Paris Graham has produced David Taylor, the Schlatters, and Jordans.  That is quite a list.  Alex Marinelli was born to be an Iowa Hawkeye and he is in the perfect place for his career.  I am definitely looking forward to seeing Marinelli's career over the next three plus years.  I saw something in him right away in the practice room, but I had to wait to see him in a come from behind, pressure situation in competition to state the following to the public.  Alex Marinelli reminds me of Royce Alger.  I am very, very cautious about throwing that compliment out, but after the Penn State dual, it is time.  Marinelli has the physical strength, attitude, and aggression in competition and in the room that made Alger the legend that he became.  Time will tell how far Marinelli's skillset will take him.  I would say he is off to a damned good start.
Let's get 'em in the middle.
2018 Season matches:
165 #9 Richie Lewis (Rutgers) W‐D 6‐4 SV1
Brendan Burnham (Maryland) W‐Pin 2:41
Midlands‐1st place     
Johnny Blankenship (Nebraska) W‐Pin 6:04
Jonathan Viruet (Brown) W‐D 3‐2
#14 Richie Lewis (Rutgers) W‐D 3‐2
Jon Schleifer (Princeton) W‐D 3‐1 SV1
Austin Hiles (Michigan State) W‐TF 24‐5
#8 Chandler Rogers (Oklahoma State) W‐D 5‐2
#13 Te'Shan Campbell (Ohio State) W‐D 4‐1
#8 Logan Massa (Michigan) W‐D 3‐2
#8 Nick Wanzek (Minnesota) W‐D 5‐1
Michael Sepke (Northwestern) W‐TF 23‐8
#1 Vincenzo Joseph (Penn State) W‐D 9‐6