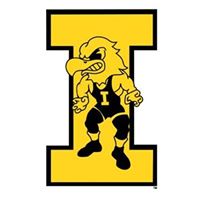 Andy Hamilton reported on Twitter that he had spoke to Austin DeSanto this evening and he is transferring to Iowa. That is huge news for Iowa Wrestling. DeSanto will have three years of eligibility remaining after wrestling as a true freshman this season for Drexel at 133 lbs.
DeSanto could very well be the missing piece of the puzzle for Iowa Wrestling getting back to the top of the college wrestling world.  The thought of starting out a dual meet, the Big Ten's, and the NCAA's with Spencer Lee and Austin DeSanto for a one-two punch…is a great thought.  The name Austin DeSanto became downright famous when he defeated Spencer Lee in the PA State finals in 2017. 
Hamilton said a story was to follow soon at 7:45 PM CST.  Andy Hamilton and TrackWrestling are a respected and trusted source so I am taking this as incredible news for Iowa Wrestling.
It is great to be an Iowa Wrestling fan just went up another notch.  A huge notch.
Let's get 'em in the middle.
Go Hawks!