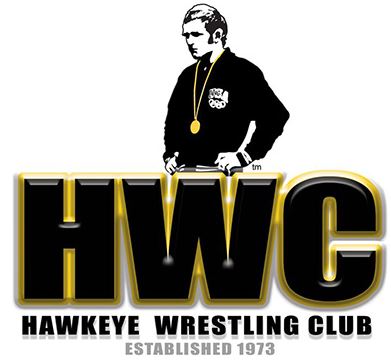 It is tournament time for a whole new wave of Iowa wrestlers.  Members of the Hawkeye Wrestling Club and Iowa Wrestling will be in action in Las Vegas.  A huge weekend of wrestling is in store centered around the 2018 U.S. Open.
HWC members Cory Clark (61 kg), Chris Dardanes (61 kg), Nick Dardanes (65 kg), and Nathan Burak (97 kg) will be competing in the U.S. Open.  The winner of the U.S. Open will become the top seed in Final X if there is not a defending World medalist already at #1. The top seven at the U.S. Open qualify for the World Team Trials Challenge Tournament in Rochester, MN on May 19-20.  The winner of the Challenge Tournament will then face the #1 seed at the Final X in a best of 3 format. The winner of Final X will be our 2018 World team member. Action for the U.S. Open begins at 11 AM CST on Friday with the finals at 5 PM CST on Saturday.
I am expecting a huge tournament out of Cory Clark.  Now healthy, Clark is looking great in the room. Cory Clark can flat out wrestle.  We all know that. I am expecting a lot of great entertainment watching Clark this weekend.  Do not be surprised if Cory Clark wins it all.
Iowa Wrestling fans will be very excited to see so many members of the great Iowa Wrestling Recruiting Class of 2017 in action at the UWW Junior Nationals.  UWW Juniors is age 18-20.  Jacob Warner has always got a lot of press from me and deservedly so. It is past time to see Warner is action. Max Murin has been tearing it up in the room.  I look for Murin to make a very bold statement in this tournament. I have called Myles Wilson the sleeper of this recruiting class. Zach Axmear, Connor Corbin, and Aaron Costello, all members of the Recruiting Class of 2017, will also be in action.  Jeremiah Moody will also be competing for the Hawks. This will be a great opportunity for these young Hawks to showcase all of there hard work in the practice room.
Spencer Lee led the way for the Recruiting Class of 2017.  Now it is time for Warner, Murin, and the rest of the class to step it up and show what they can do after a long season training and developing in the legendary Iowa Wrestling room.
The UWW Junior Nationals begin at 11AM CST on Friday and the finals are slated for 12:30 PM CST on Saturday.  The UWW Junior Freestyle World Team Trials is May 18-19 in Rochester, MN. There is a ton of potential for Iowa Wrestling to have a dominant represntation on the 2018 UWW Junior World team.  Add in Spencer Lee and Alex Marinelli to the list of wrestlers competing in Vegas, and the potential is there for several UWW Junior World team members. The 2018 UWW Junior World Freestyle Championships will be in Trnva, Slovakia on September 21-22.
I am in Las Vegas to cover the action and I will keep you posted with results and commentary.
Let's get 'em in the middle.
it is great to be an Iowa Wrestling fan.
U.S. Open
Cory Clark – 61 kg
Chris Dardanes – 61 kg
Nick Dardanes – 65 kg
Nathan Burak – 97 kg
UWW Junior Nationals
Max Murin – 65 kg
Zach Axmear – 74 kg
Jeremiah Moody – 74 kg
Myles Wilson – 86 kg
Jacob Warner – 92 kg
Connor Corbin – 92
Aaron Costello – 125 kg