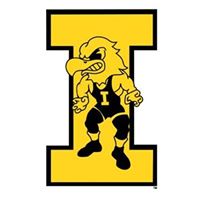 Cullan Schriever of Mason City, Iowa in not only on my Recruiting Class of 2020 Wish List, but for quite a few wrestling fans across the country.  Schriever not only won a Junior National Freestyle title at 113 lbs. this summer, he did so in dramatic fashion. Falling behind 7-0 in the first period, Schriever battled back to win the match, 10-10 on criteria.  Now there isn't an Iowa Wrestling fan out there does does not like the sounds of a great comeback.
Schriever is currently ranked #43 overall by FloWreslting in the Recruiting Class of 2020 and #3 at 113 lbs. for the upcoming season.
Schriever made a name for himself on the national scene when he won a Cadet National title in 2016 before his high school career even began.  Schriever has won a state title at 106 lbs. in each of his first two years for Mason City in dominating fashion. Schriever reminds me and others of Cory Clark.  That should be more than enough for you to want to see him in the Black and Gold of Iowa.
A common theme that you will see in my recruiting articles is that I always evaluate the rate that a recruit is still improving.  The key being that if they are not still improving, there is a very good chance that I will not be writing about them as a potential recruit.  With a wrestler that has already won two national titles at such a young age, it is even more important to evaluate the improvement curve. I see Cullan Schriever still progressing in leaps and bounds.  As good as Schriever is, I see him getting much better throughout his career.
It will be interesting to see how big Schriever gets.  I believe he is wrestling 113 lbs. this season as a junior.  With his frame, I would still list him at 125/133 for college. Who knows, he may end up being way bigger than that. Regardless of what weight class Schriever ends up at, it is easy to predict that I believe he will be a real force in college wrestling.
An added perk for Schriever is that he trains out of the Sebolt Wrestling Academy.  I tend to think a little more a recruit when they are either from an elite high school program or an elite wrestling club.  I would have to think that the Sebolt Wrestling Academy would be considered one of the top wrestling clubs in Iowa, or even the best.
Look for Schriever to attract a lot of college recruiters from not only around the midwest, but from around the country.
It is great to be an Iowa Wrestling fan.
Go Hawks.