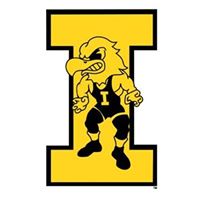 There was a standing room only crowd at the Iowa Wrestling practice on Saturday.  The crowds at these practices before Iowa football games continue to get bigger and bigger.  A few thoughts.
Part of what I have to say is a repeat.  Simply put, the Iowa Wrestling room looks great to me. The upcoming season for Iowa Wrestling, the Hawkeye Wrestling Club, coaches, staff, everything looks great to me.  I do not like to boast, but I must be honest. I love what I am seeing in the Iowa Wrestling room.
The fist full year of the existing weight classes and one hour weigh-ins was the 1998-99 season.  I have never seen an Iowa Wrestling team look this sharp physically top to bottom at this time of year in that twenty year era.  Outside of maybe a few exceptions, the Iowa wrestlers look like they are ready to certify and step on the mat for competition right now in September.  
I have had that thought since September 1.  Now let's take a look at why the team looks down to weight and ready to go.  There are three reasons. One would be that there will be some outstanding matches in wrestle offs.  It is in a wrestler's best interest to be at weight and ready to go in the Iowa program. The shape that Iowa wrestlers are in right now is a credit to how hard they have worked since the end of last season.
I have to give some credit to the Iowa Wrestling coaching staff.  These guys just do not have an off-season. The physicality of the Iowa Wrestling program right now, top to bottom, is in part a result of the hunger and dedication of the entire coaching staff.
My third assessment is a little harsh and brutal, but true.  Iowa Wrestling has a higher level of athlete and a tougher breed of animal to work with than they had even three years ago.  The last two recruiting classes and transfers has really raised the bar for athletic ability in the Iowa Wrestling program. Great athletes make coaches and everybody involved look better.  One of my favorite people to learn about recruiting from is former Oklahoma legendary football coach Barry Switzer. Coach Switzer was quoted several times saying that coaches do not win titles, players do.  I have to strongly agree. Iowa Wrestling has upped their recruiting game and continue to do so every year. It shows.
I will keep telling you that Thomas Gilman is a beast.  A brief chat with Tom Brands and I am even more excited about Gilman at the World Freestyle Championships next month.  Gilman is feeling it and looks like he is peaking at the right time.
The Hawkeye Wrestling Club made their presence felt.  When you have Alli Ragan and Forrest Molinari training for the upcoming Women's World Freestyle Championships, that can only add to the the room.  Thomas Gilman, Brandon Sorensen, and Cory Clark were working out. You cannot overstate the importance of having the HWC guys working out in the room.
There were a lot of recruits in town for the weekend and they were at practice Saturday.  The internet and Hawkeye Report is saying that #1 ranked Brevin Balmaceda of Florida has his list down to Oklahoma State and Iowa.  One of the guys at FloWrestling has Balmaceda as an Iowa lean. That is all I have heard or read.
Wrestling fans are going to be a little surprised when they see Spencer Lee this season.  He is way bigger than last year and will be a full sized and healthy 125 lbs. That's right, Lee was undersized and coming off of a major injury last year.  You will be able to see the difference real quick.
I had a good talk with Kyle Klingman.  This is one passionate and well read wrestling fan.  Kyle is the Director of the Wrestling Hall of Fame Dan Gable Museum in Waterloo, Iowa.  He is excited about the new renovations that are taking place at the HOF. I definitely need to get up to the HOF for a podcast and blog when the renovations are completed.  Kyle is a real good guy and a valuable asset to the wrestling community with all that he does.
On their way out of Carver Hawkeye Arena I bumped into Olympic Gold medalist and former Iowa great Randy Lewis, aka The Great One.  He is very excited about the upcoming World Championships.You will not find anyone with a better memory about their wrestling experience than Randy Lewis as he is a walking wrestling encyclopedia.  I have plans to get Randy on a future podcast.
Over the last four weeks of Saturday practices, two wrestlers stood out to me every single time.  Austin DeSanto and Nelson Brands. DeSanto is a transfer in his second year of college and Brands is a true freshman. Usually is takes some time for a wrestler new to the program to get used the increased work capacity of the Iowa Wrestling program.  Desanto and Brands both have great conditioning and energy right out of the gate. That is rare.
As a fan, I hope that DeSanoto makes a run at 133 this season.  DeSanto looks better to me than I thought he was and I thought he was really good coming into the program.  I am hoping Brands uses his redshirt this season. If I had to guess, I would say Nelson Brands has a great future at 165 for the Iowa Hawkeyes.
Another wrestler worth noting is Alex Marielli.  "Bull" is looking real good. Much improved.
I become an even bigger fan of Bobby Telford as a coach every time I see him at practice.  In my opinion, Telford has already made the Iowa Wrestling program better. Having Telford mat-side in competition, traveling with the team, and day in-day out in the practice room will put points on the team score for the Hawks at Nationals in Pittsburgh.
The next home football game will be on October 20 for Homecoming and the Coaches Clinic.  I expect another standing room only crowd of fans on that Saturday morning as well. Wouldn't it be great if Iowa Wrestling had wrestle offs that weekend?  Just wishing out loud.
I was flattered that five or six people at practice that I had never met before told me that they liked my blog on Hawkeye Report and to keep the articles coming.  Thank you and will do..
I was asked by an Iowa Wrestling parent what I thought at practice.  I told him that I have to keep reminding myself that it is only September.  The way that Iowa Wrestling is looking right now, as a fan you cannot wait for the season to start.
It is great to be an Iowa Wrestling fan.
Go Hawks!