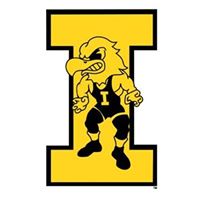 Opening Day.  To me that means the first day of official practice for Iowa Wrestling. Wednesday, October 10 was Opening Day of practices for college wrestling programs around the country.  This is my 37th year of going to Iowa Wrestling practices and this in some ways was the best Opening Day ever for me.
The Boys were in town.  Former Iowa wrestlers Royce Alger, Randy Lewis, and Rick Novak along with good friend Steve Cannon were all there. Terry Brands had his office invaded my all of us except Rick before practice and the stories were flying around at an Old School pace.  It took me back to the days in The Beach House for a little while.
Tom Brands started practice off with a talk about the new rules in college wrestling.  I will need to study up on the new rules before the season starts. That would actually make a great subject for an Iowa Wrestling Fan Blog and Podcast.
I had not been in the room in a couple of weeks.  I believe all of the Iowa Wrestlers have certified and they look it.  I have stated in a previous blog and I will say it again. Since the first full season of the new weight classes and one-hour weigh ins started in the 1998-1999 season, this is the most impressive looking Iowa Wrestling team that I have seen in that era.  The Iowa wrestlers are at weight and look like they are ready to go now. I know it is a l-o-n-g time until the NCAA's in Pittsburgh in March, but damn, The Boys look like they are ready to go now. And I mean the entire program top to bottom.  The depth in Iowa room right now is reminding me of the Gable Era. Enough said.
Thomas Gilman is with Team USA at a training camp in Germany preparing for next week's World Championships.  Forrest Molinari was working out hard in the room. She will be leaving soon to go and represent Team USA in the Women's World Freestyle Championships.  The influence of having World Team members in the room is so very important.
I am sure that as fans we are all looking forward to wrestle offs.  Having that much competition at every weight is the grind in the room that will raise the level of performance on the mat in competition.  Iron sharpens iron.
Spencer Lee gave a boost to the Iowa Wrestling program last year that had such an impact it is challenging to calculate.  The Spencer Lee Effect, as I call it, showed what the next level is. Now we need to see additional Iowa wrestlers make that step to being a national champion. Lee definitely leads by example on and off the mat.
I see Iowa rated fourth is some preseason polls.  I always try to show respect to other writer's work.  I will admit that I am not near the expert on the rest of the country like the writers for national publications and websites are.  I have a different approach to this and every season of Iowa Wrestling and college wrestling.  Of all the years that I have been around Iowa Wrestling, there is always competition out there. There is competition out there in anything you do in life.  The true competition for the Iowa Wrestling championship teams of the past has always been in The Room.  
I like what I see in the Iowa Wrestling room right now.  I see Iowa contending for All-American status at all ten weights this year.  Growing up in a wrestling dynasty in Lisbon, Iowa and now following Iowa Wrestling, I have learned to concentrate on the team that I am following.  I know what the best looks like because I have been around it quite a few times. As I mentioned, there is always competition out there in anything you do and college wrestling is no different.  Should Iowa Wrestling compete up to their potential, I am confident that they will win it all in Pittsburgh. The talent is there. The time to get the most excited about Iowa Wrestling is tournament time in March.  It is not even mid-October. Steady as she goes. Steady as she goes.
I have a feeling that this team knows what they have to do.  By that I mean that there is a room of like-minded wrestlers that know what the task at hand requires. There is really only so much a coach at this level or any level can do for an athlete. It is up to the wrestler to take accountability for their training, nutrition, academics, and lifestyle.  Iowa peaked at NCAA's last year to a level that even I was not expecting by leading the country in bonus points. Peaking at the end of the season at tournament time is a road that this group has already traveled and that is very valuable experience.
Iowa Wrestling has recruited a team that is a little different than what I have seen in the past and they reflect the generation that they are a product of.  I believe this group will have their own unique way of reaching their potential as individuals and as a team. This is a new era of Iowa Wrestling. An era that in my opinion is going to write one hell of a chapter in the legacy and history of Iowa Wrestling.
Let's get 'em in the middle.
It is great to be an Iowa Wrestling fan.
Go Hawks!