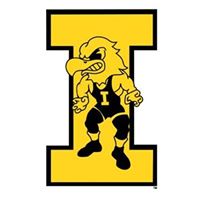 Iowa true freshman Anthony Cassioppi (Hwt) and Nelson Brands (165) both won titles at the UNI Open in Cedar Falls, Iowa. Both Cassioppi and Brands were impressive in winning the titles. Cassioppi had three pins in :35, 1:52, and :43. To get a :43 pin in the finals at a tournament as tough as the UNI Open is very rare. So is going 3-0 for the day with three first period pins.  

Brands had a fall in 2:12 and 13-5 and 12-3 major decisions before receiving a forfeit in the semifinals. In the finals, Brands defeated Jake Allar of Minnesota, 3-2, 2 OT. Brands scored a reversal in the second overtime for the victory.

Cassioppi and Brands are undefeated on the season and have won the three tournaments they have entered so far this season in the Grand View Open, Lindenwood Open, and now the UNI Open.

Cassioppi is 11-0 with ten pins and a major decision for the season. For his 10 pins, Cassioppi had 9 falls in the first period and one in the second period. That is impressive.

Vince Turk placed second at 141 and Jaren Glosser placed third at 157. Justin Stickley (141), Zach Axmear (149), Joe Kelly (157), and Tristan McDonald (165) did not place.

It is great to be an Iowa Wrestling fan.

Go Hawks!
Open 141
Champ. Round 1 – Vince Turk (IOWA) received a bye () (Bye)
Quarterfinal – Vince Turk (IOWA) won by decision over Clay Carlson (South Dakota St.) (Dec 8-5)
Semifinal – Vince Turk (IOWA) won by major decision over Michael Blockhus (Northern Iowa) (Maj 14-0)
1st Place Match – Josh Alber (Northern Iowa) won by decision over Vince Turk (IOWA) (Dec 4-0)
Open 141
Champ. Round 1 – Justin Stickley (IOWA) won by fall over Richardson Beanie (Iowa Central CC) (Fall 0:59)
Quarterfinal – Michael Blockhus (Northern Iowa) won by decision over Justin Stickley (IOWA) (Dec 6-3)
Cons. Round 2 – Justin Stickley (IOWA) won by major decision over Zach Price (South Dakota St.) (Maj 12-3)
Cons. Round 3 – Clay Carlson (South Dakota St.) won by decision over Justin Stickley (IOWA) (Dec 12-10)
Open 149
Champ. Round 1 – Zach Axmear (IOWA) won by decision over Grant Stotts (Iowa State Unattached) (Dec 5-0)
Champ. Round 2 – Graham Rooks (Indiana University Unattached) won by decision over Zach Axmear (IOWA) (Dec 6-4)
Cons. Round 2 – Zach Axmear (IOWA) won by fall over Yaroski Aldiva (Iowa Central CC) (Fall 3:43)
Cons. Round 3 – Zach Axmear (IOWA) won by major decision over Tyler Waterson (Minnesota) (Maj 15-5)
Cons. Round 4 – Drew Scharenbrock (Wisconsin Unattached) won by decision over Zach Axmear (IOWA) (Dec 10-8)
Open 157
Champ. Round 1 – Joe Kelly (IOWA) received a bye () (Bye)
Champ. Round 2 – Joe Kelly (IOWA) won by decision over Laken Cook (South Dakota St.) (Dec 7-4)
Quarterfinal – Brayton Lee (Minnesota) won by major decision over Joe Kelly (IOWA) (Maj 12-3)
Cons. Round 4 – Ethan Karsten (Iowa Central CC) won by decision over Joe Kelly (IOWA) (Dec 7-2)
Open 157
Champ. Round 1 – Jaren Glosser (IOWA) received a bye () (Bye)
Champ. Round 2 – Jaren Glosser (IOWA) won by decision over Chase Straw (Iowa State Wrestling) (Dec 13-9)
Quarterfinal – Jaren Glosser (IOWA) won by major decision over Jared Franek (North Dakota State) (Maj 14-3)
Semifinal – Devin Bahr (Wisconsin Unattached) won by decision over Jaren Glosser (IOWA) (Dec 3-2)
Cons. Semi – Jaren Glosser (IOWA) won by major decision over Cayd Lara (Northern Iowa) (Maj 11-2)
3rd Place Match – Jaren Glosser (IOWA) won by decision over Chase Straw (Iowa State Wrestling) (Dec 5-4)
Open 165
Champ. Round 1 – Tristan McDonald (IOWA) received a bye () (Bye)
Champ. Round 2 – Austin Brenner (North Dakota State) won by major decision over Tristan McDonald (IOWA) (Maj 9-1)
Cons. Round 2 – Tristan McDonald (IOWA) won by decision over Zachary Schneider (North Dakota State) (Dec 3-2)
Cons. Round 3 – Tim McCarthy (Illinois) won by decision over Tristan McDonald (IOWA) (Dec 5-0)
Open 165
Champ. Round 1 – Nelson Brands (IOWA) won by fall over Jonathan Carr (Iowa Central CC) (Fall 2:12)
Champ. Round 2 – Nelson Brands (IOWA) won by major decision over Tate Battani (Iowa State Unattached) (Maj 13-5)
Quarterfinal – Nelson Brands (IOWA) won by major decision over Skyler St. John (Iowa State Wrestling) (Maj 12-3)
Semifinal – Nelson Brands (IOWA) won by medical forfeit over Brady Jennings (Iowa State Unattached) (MFF)
1st Place Match – Nelson Brands (IOWA) won in double overtime over Jake Allar (Minnesota) (2-OT 3-2)
Open 285
Champ. Round 1 – Tony Cassioppi (IOWA) received a bye () (Bye)
Quarterfinal – Tony Cassioppi (IOWA) won by fall over Blake Wolters (South Dakota St.) (Fall 0:35)
Semifinal – Tony Cassioppi (IOWA) won by fall over Thomas Helton (SIUE) (Fall 1:52)
1st Place Match – Tony Cassioppi (IOWA) won by fall over Daniel Stibral (North Dakota State) (Fall 0:43)