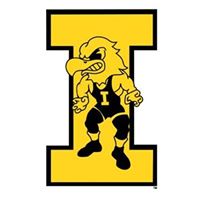 Incoming Iowa Wrestling recruit Abe Assad placed third at 86 kg/189 lbs. at the UWW Junior National Championships this weekend in Las Vegas.  UWW Junior is for ages 18-20. Assad was competing against quite a few college age wrestlers. After dropping a quarterfinal bout, Assad ran off four straight victories to place third.  In the third place match Assad downed Gavin Hoffman, a true freshman for Ohio State, 3-0. Hoffman was a first team All American and a Cadet World Bronze medalist in high school.
Assad has now qualified for the Junior World Team Trials in Raleigh, NC on May 17-18.
Assad, from Carol Stream, IL (Glenbard North HS), won a Bronze medal at the 2018 Cadet World Freestyle Championships in Zagreb, Croatia at 80 kg/176 lbs. Assad has won an Illinois state title the last two years.  Assad committed to Iowa on August 7, 2018 and is projected to wrestle at 184/197 for the Hawks.
Assad is a member of the Iowa Wrestling Recruiting Class of 2019 that also includes Zach Glazier of Albert Lea, MN (Albert Lea Area HS), and Cobe Siebrecht of Lisbon, IA.
Rd of 64: Bye
Rd of 32: Abe Assad (Izzy Style) over Jared Florell (Boilermaker RTC) VSU 10-0 1:44
Rd of 16: Abe Assad (Izzy Style) over Jonathan Loew (FLWC) VPO1 12-6
Quarters: Trent Hidlay (Wolfpack WC) over Abe Assad (Izzy Style) VPO 8-0
Consi 8 #2: Abe Assad (Izzy Style) over Jack Jensen NWU FVA 3:24
Consi 4: Abe Assad (Izzy Style) over Peter Acciardi (Bulls WC) VSU 11-0
Consi Semis: Abe Assad (Izzy Style) over Victor Marcelli (Cavalier WC) VFA 2:38
3rd Place: Abe Assad (Izzy Style) over Gavin Hoffman (Ohio St) VPO 3-0
It is great to be an Iowa Wrestling fan.
Go Hawks!