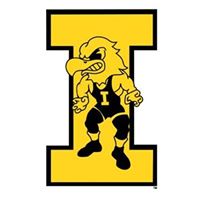 FloWrestling released an updated list of how current high school recruits would rank at college weight classes.  Incoming Iowa recruits Patrick Kennedy (174) and Ryan Sokol (149) are ranked #1 in the country at their weight classes.  Jesse Ybarra is ranked #4 at 133 lbs. and Cullan Schriever is ranked #9 at 133 lbs.
Kennedy looks to be just what you want for a recruit and looked great this past season.  Sokol and Ybarra have really shot up the national rankings recently.  Sokol looked great in winning the Cadet World Team Trials and will now represent Team USA at 65 kg/143 lbs.at the UWW Cadet World Championships in Sofia, Bulgaria on July 29-August 4. 
Ybarra had a strong showing in placing third at FloNationals and second at the Cadet World Team Trials at a very tough weight.  Schriever has been out with an injury and has not been able to compete since the state tournament in February.
For the Hawks to have two wrestlers ranked #1 and one of them will be a junior this coming school year is great news. Iowa has momentum on their side for recruiting.  Nothing in the form of future commitments would really surprise me at this point.  Great wrestles want to be on the same team as other great wrestlers. Iowa Wrestling looks to be the place that top recruits want to be.
FloWrestling Prospect Rankings for college weights 
Recruiting Class of 2020
Patrick Kennedy – Kasson-Mantorville, MN  – #1 at 174 lbs.
Jesse Ybarra – Tucson, AZ (Sunnyside HS) – #4 at 133 lbs.
Cullan Schriever – Mason City, Iowa – #9 at 133 lbs.
Recruiting Class of 2021
Ryan Sokol – Grover Heights, MN (Simley HS) – #1 at 149 lbs.
It is great to be an Iowa Wrestling fan.
Go Hawks!