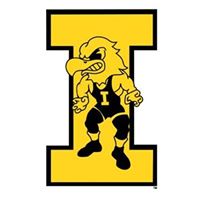 The Hawkeye Wrestling Club will have practice open to the public at Noon on Saturday, August 31. The doors of the Iowa Wrestling room in the Dan Gable Wrestling Complex will open at 11 AM. The bleachers will be pulled out and fans are welcomed to attend.  In the past, Iowa wrestlers would be working out on their own at this time.
Kickoff for the Iowa-Miami(Ohio) football game is 6:30 PM.  This practice offers football fans that are in town for the football game to see some great wrestling.  This time also provides a great opportunity for Iowa Wrestling fans that want to watch practice to get in and out of Iowa City before the big football crowds.
Classes at the University of Iowa begin this morning. The anticipation for the upcoming season always takes a big step up with the beginning of a new school year and the first home football game.  There were great crowds at practices before football games last year. I am expecting even more fans this year. The excitement for Iowa Wrestling is in the air.
It is great to be an Iowa Wrestling fan.
Go Hawks!