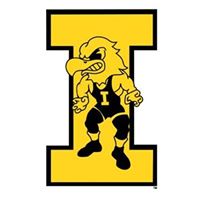 There was a great crowd of wrestling fans at the Hawkeye Wrestling Club practice on Saturday.  Fans were lined up around and on the mats in a standing room only crowd. Not bad for August 31.  Iowa wrestlers were working out on their own. This was the first time that fans got a look at the Hawks this year. 
Overall it was easy for me to see that the team had developed in the off-season.  A lot of work has been put in the weight room and the results show. Wrestling is such a unique sport. The muscle that is put on during the off-season will provide a tougher challenge when making weight during the season.  Top to bottom the wrestlers looked stronger and more confident than last year. They have a seasoned look and way about them.
Spencer Lee and Austin DeSanto were drilling together.  DeSanto looks like at 133 lbs. wrestler to me and Spencer Lee is…Spencer Lee.  What a great pair to be working together. Max Murin was wrestling with Gavin Teasdale.  Murin will be big for 141 this season and Teasdale looks no bigger than a 133 lbs. wrestler to me.  Teasdale is a great addition to the program. Vince Turk looks extra tough. The wrestle off at 141 will be an absolute dogfight.
Patricio Lugo looks more confident and I am looking for a big year out of him.  He knows what to expect this season and I like what I see out of him. Kaleb Young is always so lean and looks like he could certify for 157 today.  He has grown and just looks better. I have yet to see Alex Marinelli have a bad workout. He is always a hammer and working very hard every second.  
For anyone questioning if Michael Kemerer is big enough to wrestle at an elite level at 174 lbs. has simply not seen him lately.  I believe Kemerer's legs will weigh 174 lbs. and he is cut up. I was very encouraged with what I saw out of Kemerer as he will be a welcomed returner to the lineup.  As an Iowa Wrestling fan I cannot wait to see the 1-2 punch of Marinelli-Kemerer. I would guess that Nelson Brands is in the 165-174 range and looking very good. I am sure that Cash Wilcke was there but I just did not see him wrestle.  
Jacob Warner at 197 looked overall bigger and more confident to me. I like the attitude, a lot.  Warner certainly has all of the ability to make it to the top. For any doubters that Anthony Cassioppi will be a small Hwt.  Wrong. It is nothing short of amazing at how Cassioppi has transformed from a year ago. A before and after picture would be neat to see.  I would estimate him to be around 265 lbs. I am talking about a 265 lbs. that is all there. He looks leaner, quicker, and confident. I do not care how competitive Hwt is this season in D-I college wrestling.  Anthony Cassioppi will be a big factor and make a lot of great memories throughout his career for Iowa Wrestling fans.
Of all the Iowa wrestlers that I saw, Kemerer, Warner, and Cassioppi stood out the most to me for physical improvements.  Also Marinelli is in better shape now than he was a year ago and if the season started tomorrow he would be ready. One last mention to not look past Turk at 141.  
Forrest Molinari and Kayla Miracle hit an intense workout.  Both look cut up, peaked, and ready to go for the Freestyle World Championships in Nur-Sultan, Kazakhstan on August 14-22.  Molinari and Miracle will be a force to deal with for the World titles at their weight along with HWC teammate Alli Ragan.  
We just started September and I am past ready for the season to start.  A quick glance at the Iowa Wrestling team on Saturday and you can see that the entire program has been working real hard.  They just looked tougher than last year to me. A year of hard training in the Iowa Wrestling room seems to have that effect on wrestlers.
The NCAA National Wrestling Championships will be in the U.S. Bank Stadium in Minneapolis, MN on March 19-21.  More than 17,000 tickets had been sold in July and record breaking crowds are expected. Gotta think that is a result of a lot of very excited Iowa Wrestling fans.  
Everything looks to be in place for a great two year run.  At least. The 2019-2020 season has the potential to be a special and very entertaining season to be an Iowa Wrestling fan.  I cannot wait.
Let's get 'em in the middle.
It is great to be an Iowa Wrestling fan.
Go Hawks!