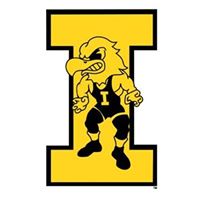 Spencer Lee is…Spencer Lee.  I have been using that phrase for two years and I see no reason to stop now.  I have never seen a wrestler quite like Spencer Lee. When Iowa Wrestling fans have Spencer Lee to watch compete at 125 lbs., all is well. With all that he has done as a two-time NCAA national champion it is hard to believe that Lee's career as an Iowa Hawkeye is only at the halfway point.  
Lee defeated Jack Mueller of Virginia 5-0 in the NCAA Finals to capture his second title last March.  For the season Lee was 23-3 with 9 pins, 7 tech falls, and 3 major decisions. In six of his seven tech falls Lee did not surrender a point.  In his four wins by decision, Lee won by scores of 12-6, 4-0, 11-4, 5-0. The 11-4 match was in the NCAA Semifinals and the 5-0 match was the NCAA Finals.  Another impressive stat is that Lee scored 24.5 of Iowa's 76 team points at the 2019 NCAA National Tournament. 
Those stats do not tell the whole story.  Lee was not 100% last season and still managed to put up those type of stats in winning his second national title.  So just how good is Spencer Lee? We will find out this year and I believe Iowa fans are going to really like the answer to that question.   
It will be interesting to see the game plan for Lee for the upcoming season as far as a schedule.  I believe Lee will be competing stateside and hopefully overseas in freestyle to prepare for the Olympic Trials on April 4-5. For that to happen there is a chance that Lee will probably miss some dual meets.  The Olympic Trials are only two weeks after the NCAA Championships and I believe that will be an advantage for Lee. He will be in Iowa Wrestling shape and his weight will be spot on.  
It is difficult to fully describe the impact that Spencer Lee has had on the Iowa Wrestling program.  Winning national titles while being an Academic All-American and a great ambassador for Iowa Wrestling.  That is doing it all.
The impact of starting a dual meet or a round at the NCAA's with Spencer Lee sets a tone that is so very important to a wrestling team.  As successful as Lee has been the last two years, I truly believe that he will take his wrestling to another much higher level in 2020. Winning a third NCAA title before pursuing the 2020 Olympics is the task at hand right now.     
I believe that the best for Spencer Lee as an Iowa Hawkeye is yet to come. As a fan, I am going to enjoy every match because we may never see a better wrestler in the Black and Gold.
2019 NCAA National Wrestling Championships
Spencer Lee (23-3) placed 1st and scored 24.5 team points.
Champ. Round 1 – Spencer Lee (Iowa) 23-3 won by tech fall over Bryce West (Northern Illinois) 16-16 (TF-1.5 6:27 (18-0))

Champ. Round 2 – Spencer Lee (Iowa) 23-3 won by major decision over Sean Fausz (NC State) 14-4 (MD 10-1)

Quarterfinal – Spencer Lee (Iowa) 23-3 won by fall over Sean Russell (Minnesota) 28-6 (Fall 5:59)

Semifinal – Spencer Lee (Iowa) 23-3 won by decision over Nicholas Piccininni (Oklahoma State) 34-2 (Dec 11-4)

1st Place Match – Spencer Lee (Iowa) 23-3 won by decision over Jack Mueller (Virginia) 21-1 (Dec 5-0)
WIN Rankings on October 11 at 125 lbs.
Spencer Lee – Iowa

Jack Mueller – Virginia

Sebastian Rivera – Northwestern

Nick Piccininni – Oklahoma State

Pay Glory – Princeton

RayVon Foley – Michigan State

Michael McGee – Old Dominion

Devin Schroder – Purdue
It is great to be an Iowa Wrestling fan.
Go Hawks!