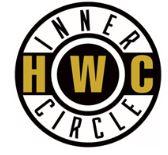 The absolute foundation for Iowa Wrestling over the last 46 plus years has been the Hawkeye Wrestling Club.  The HWC is truly a one of a kind organization that was originated to support the careers of former Iowa wrestlers to represent the United States in World and Olympic competition. 
The presence of these elite world class wrestlers of the HWC in the room has a huge influence on the younger Iowa wrestlers.  No other program has had a supporting club over the last 40 years really all that close to the HWC. It is not a coincidence that Iowa Wrestling has had so much success since 1973 when the HWC was founded.  If you really want to know how important and the overall impact of the HWC on an individuals career, ask a former Iowa wrestler. They will tell you.
When I interviewed former Iowa Wrestling greats in 2001 for my book: Domination: An inside look at Iowa Wrestling, without fail they would all bring up the HWC on their own.  You would hear specifics about how the influence of the HWC helped develop them into a national champion.
Drive to 5 is a campaign by the Hawkeye Wrestling Club to gain new members into the Inner Circle.  The Inner Circle was developed for donors to set up monthly donations to the HWC.  
Hawkeye Wrestling Club President Randy Novak:
"Drive to 5 started out at roughly 350 members.  Today we are at 423 Inner Circle members and we are gaining ground!
Our goal is 500 by the Iowa State dual meet.
As Coach Brands said, with 4-5,000 season ticket holders we need to get the word out.  500 plus "should" be easy. We need to keep providing cool gear, exclusive content, and Inner Circle events (stay tuned for the Okie State meet).
We know we have the best and biggest group of fans on the planet, but the HWC needs help.  We are far behind a few other schools in fundraising. This is a way to help starting at $25 a month.  We are counting on our fans to get us to 500 and beyond!"
We are now in an Olympic cycle and the HWC is looking strong to put numerous wrestlers in the red, white, and blue to represent Team USA in the 2020 Tokyo Olympics. Putting members of the HWC on the Olympic team has a huge impact on the entire Iowa Wrestling program. 
Support is needed now as much or more so than ever before.  With HWC wrestlers traveling around the country and world preparing for the Olympic Trials, your support is appreciated.
You can sign up today for the HWC Inner Circle at:
https://www.hawkeyewrestlingclub.com/inner-circle/
It is great to be an Iowa Wrestling fan.
Go Hawks!