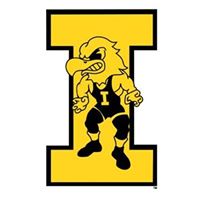 Jesse Ybarra will begin his senior season at Sunnyside High School in Tucson, Arizona tonight with a home double dual.  Ybarra committed to the Hawks on September 27, 2018. At the end of last season, Ybarra was not listed in the top 100 recruits in the country.  After a great performance last Spring and a win over the second rated wrestler in the country at 120 lbs. at Who's #1, Ybarra is now ranked #1 in the country.
Ybarra is not only ranked number one in the country, he is still getting better.  Much better. Hawkeye fans were able to get a great look at the skill set of Ybarra at Who's #1.  Ybarra is a combination of an elite athlete that comes from a great program. Sunnyside High School has been producing D-I talent for decades.  This will be the third year in a row that Sunnyside has put a wrestler into an elite college program. Ybarra is a member of the outstanding Iowa Wrestling Recruiting Class of 2020.
Jesse Ybarra has a great future in the Black and Gold of Iowa and the potential to represent our country in International competition.  I see him competing at 125 and then possibly 133 at the end of his career.
I will bring you a blog every Friday during the season to let you know where our recruits will be competing and a follow-up blog with results.
Sunnyside High School
Nov 27 – Desert View & Empire
Dec 4 – at Ironwood Ridge
Dec 6-7 – at Southwest Shootout Duals
Dec 11 – Mountain View & Buena
Dec 18 – at Safford & Walden Grove
Dec 20-21 – at McClintock Invite
Jan 3 – at Mile High Challenge Tournament
Jan 10-11 – at Peoria Invitational
Jan 15 – at Salpointe & Cienega
Jan 17-18 – at Flowing Wells Invitational
Jan 22 – Catalina Foothills and Nogales
Feb 7-8 – at Sectionals
Feb 14-15 – at State
It is great to be an Iowa Wrestling fan.
Go Hawks!