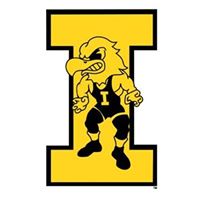 Cameron Lucero of Pagosa Springs, Colorado announced on November 3 that he is going to be an Iowa Hawkeye.  Lucero was one of many recruits in town for Iowa's Homecoming weekend that resulted in a commitment. Lucero won a Colorado 3A state title at 145 lbs. last season as a sophomore and placed second as a freshman. In winning the title, Lucero had three pins before an 8-2 decision in the finals.

Colorado is really on the rise for wrestling with more and more D-I recruits entering the college ranks.  Lucero will join Myles Wilson of Junction, Colorado on the Iowa roster. Lucero will compete at 157/165 for the Hawks and is in the Iowa Wrestling Recruiting Class of 2021.
National Letter of Intent Signing Day for the Class of 2021 will be on Wednesday, November 11, 2020.
I will bring you a blog every Friday during the season to let you know where our recruits will be competing and a follow-up blog with results.
Pagosa Springs High School
Dec 6 – Piedra Vista
Dec 7 – at Buena Vista Invitational
Dec 14 – at Columbine Invitational
Dec 20-21 – at Warrior Classic
Jan 9 – Bayfield
Jan 11 – Rocky Mountain Invitational
Jan 17-18 – at Mel Smith Tournament
Jan 23 –  at Monte Vista
Jan 25 – at Tiger Duals
Jan 30 – Alamosa
Jan 31 – Durango
Feb 1 – at Butch Melton Invite
Feb 6 – Montezuma-Cortez
Feb 8 – Centauri
Feb 21-22 – at State
It is great to be an Iowa Wrestling fan.
Go Hawks!