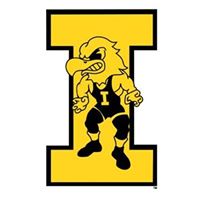 You would think the score of 32-3 would be the most impressive numbers coming out of the Iowa win over #6 rated Wisconsin on Sunday.  I believe that 22-3 could possibly rival 32-3. That is the total of takedowns in the dual meet: Iowa 22, Wisconsin 3. That is a great stat.
It is a pretty easy formula in the sport of wrestling.  Whoever wins the takedown battles has a real good chance of winning the match.  The Hawks looked much improved in the neutral position against Wisconsin and for the season.  Before I go any further, Wisconsin is ranked #6 in the country for a reason. They are that good.  I did not see a Wisconsin wrestler get tired. You do not see that in Carver-Hawkeye Arena very often, especially that early in the season. Another point to make is that Iowa has faced tough competition in all of their first three dual meets.
My first reaction to watching the battle for takedowns is the improved finishes to takedowns.  That all starts with positioning at the beginning of the shot. The Iowa wrestlers were able to defend a large percentage of the shots that Wisconsin took with improved hand fighting and footwork.  I was reminded last year that clean takedown finishes are the result of a clean setup and shot. However you want to look at it, the Hawks looked great on their feet.
Mark Ironside made a point quite a few times last season when talking about Alex Marinelli.  From his freshman to sophomore season, Marinelli was finishing his shots so much quicker. From the time he touched his opponents legs until the takedown was secured was only maybe 1-3 seconds last season.  Folks, that is tough to do against elite D-I competition.
I kept Mark's comments about Marinelli in mind as I watch Iowa Wrestling this season hoping to see that same type of progression for the rest of the team.  Sure enough, the Hawks are finishing completing their takedowns much quicker than last year. Iowa is also scoring more first period takedowns and that is a huge influence on the rest of the match.
I have said for years that in the sport of wrestling that strength will cure more ills that a semi full of aspirin.  Iowa does indeed look physically bigger and stronger this season. Strength makes technique look better than is really is.  So is it the added strength or improved technique that is the difference in Iowa Wrestling so far this season? I would say a blend and mix of both.  Whatever it is, I sure like seeing it.
Keep winning the takedown battles Iowa Wrestling and the winning will take care of itself.
It is great to be an Iowa Wrestling fan.
Go Hawks!