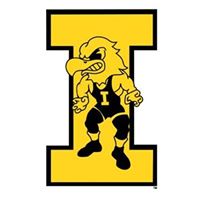 When the Iowa Wrestling schedule came out, fans were immediately drawn to the incredible home schedule.  This is the best home schedule in Iowa Wrestling history. We have already been able to go to legendary Carver-Hawkeye Arena for some great wrestling this season.  Folks, it's about to go up another notch the next two Friday nights. First up – Ohio State.
#1 Iowa will host #4 Ohio State this Friday, January 24 at 8 PM (CST). Ohio State is ranked in the top six of most rankings and they are always a big rival for the Hawks.  I am expecting a huge crowd for this. The weather looks like it will cooperate and that will mean at least 14,000 fans. With terrible weather last Friday for the Nebraska meet, just shy of 13,000 fans made it to Carver.  A sellout would not surprise me at all. You may want to get your tickets now if you have not already done so.
Every single match will be contested in a dual meet like this.  The biggest matches will be at 141, 149, and 197. Ohio State has undefeated #1 ranked seniors at 141 and 197 and a #6 ranked freshman at 149.  I would definitely not count out the two Iowa sophomores of Max Murin and Jacob Warner, our only losses against Nebraska last week.  I expect Murin and Warner to come out fired up and get after it against the top ranked wrestler in the country. The Lugo-Sasso match at 149 will be important for Big Ten seeds and revenge.  Sasso defeated Lugo at the 2018 Midlands.
The biggest matches:
141 – #7 Max Murin vs. #1 Luke Pletcher
149 – #1 Pat Lugo vs. #6 Sammy Sasso
197 – #5 Jacob Warner vs. #1 Kollin Moore
I am also looking forward to the matches at 174 and 184. Ohio State has two young wrestlers on the rise in #8 Kaleb Romero at 174 and #22 Rocky Jordan at 184.  Romero is an athletic sophomore that has been looking very good lately for the Buckeyes and will be a good test for #2 ranked Michael Kemerer. Rocky Jordan has recently won the varsity spot at 184 for Ohio State and is a big physical redshirt freshman.   Iowa will counter with true freshman Abe Assad in what I expect to be a very good match. 
Iowa was flat against Nebraska and overall did not wrestle very well.  I expect to see a fired up team entertain a huge crowd to some Iowa Hawkeye wrestling. 
You do not want to miss this dual meet.
#4 Ohio State at #1 Iowa – 8PM CST on Friday, January 24
TV: BTN
Online: FloWrestling 
Radio: AM 800 KXIC on iHeartRadio.com with Steven Grace and Mark Ironside.
#1 Iowa vs. #4 Ohio State
125   1/1 Spencer Lee (Jr) vs. Malik Heinselman (So) or Hunter Lucas (Jr) 
133   2/2 Austin DeSanto (Jr) vs. 15/18 Jordan Decatur (Fr)
141   7/9 Max Murin (So) vs. 1/1 Luke Pletcher (Sr)
149   1/1 Pat Lugo (Sr) vs. 6/6 Sammy Sasso (Fr)
157   4/6 Kaleb Young (Jr) vs. Elijah Cleary (Jr)
165   2/2 Alex Marinelli (Jr) vs. 8/13 Ethan Smith (So)
174   2/2 Michael Kemerer (Sr) vs. 12/8 Kaleb Romero (So)
184   6/7 Abe Assad (Fr) vs. 22/- Rocky Jordan (Fr)
197   5/6 Jacob Warner (So) vs. 1/1 Kollin Moore (Sr)
Hwt   3/3 Tony Cassioppi (Fr) vs. 24/- Gary Traub (Jr) 
*TrackWrestling Rankiings/Intermat Rankings
It is great to be an Iowa Wrestling fan.
Go Hawks!