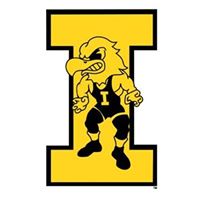 The University of Iowa broke their own all-time record for attendance.  With 13,109 in Carver-Hawkeye Arena to watch Iowa defeat Oklahoma State 34-6, that pushed the total attendance for the year to 87,979 for seven home dual meets. The new single-season NCAA average attendance record for college wrestling is 12,568. 
To break the old record from the 2015-16 season that included over 42,000 for Grapple on the Gridiron is nothing short of amazing.  It is also amazing when you factor in the ice storms and overall bad weather during the season and the fact that all of the big home dual meets were live on TV.
Seth Duckworth covers Oklahoma State Wrestling for Pistols Firing and FloWrestling.  He had a tweet this morning that Iowa had over 10,000 fans for all seven home dual meets this season.  Oklahoma State has only had t-h-r-e-e home dual meets with over 10,000 fans in the h-i-s-t-o-r-y of their wrestling program.  That gives you some sense of scale.
I have said for years that the Iowa Wrestling fanbase advantage over every other college wrestling program is more than any sports team has in the United States.  This new attendance record is more proof of that. 
How fitting to have the record set when Iowa soundly defeated bitter rival Oklahoma State 34-6 in winning eight of ten matches.  Also to have the legends of Iowa Wrestling's past form a tunnel on Alumni Night for the Hawkeyes to run through on their way to the mat for introductions.  You just do not get any of this at any other college wrestling program.
Thank you to all that were a part of this record.
How can Iowa top this record?  A Grapple on the Gridiron II next season would be a good place to start.
Single-season NCAA average attendance record for wrestling: 12,568 – The University of Iowa.
It is great to be an Iowa Wrestling fan.
Go Hawks!