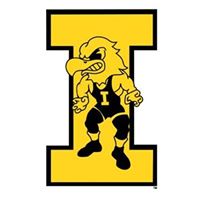 Kaleb Young of the University of Iowa Wrestling program has been named as a recipient of the 2021 Big Ten Postgraduate Scholarship. Two student athletes from the 14 Big Ten institutions were awarded a $7,500 scholarship based primarily on academic achievements.
From BigTen.org:
Each Big Ten institution developed its own on-campus selection process when awarding the scholarships. Students must have maintained at least a 3.2 grade-point-average, demonstrated leadership qualities, served as an excellent role model and intended to continue their academic work beyond their baccalaureate degree at a graduate degree program. The scholarship will be used to pay expenses of the student's postgraduate education to include such related activities as research and teaching, as well as other expenses such as tuition, fees, room and board, required course-related supplies and books. In order to retain the scholarship, the recipient must be accepted into a full-time graduate degree program within three years from the fall semester after selection.
Young is originally from Punxsutawney, Pennsylvania and majored in Human Physiology.  He achieved All American status by placing seventh in the country last season and fifth in 2019 at 157 lbs.
Congratulations to Kaleb Young for this prestigious honor.
Iowa Wrestling getting it done on the mat and in the classroom.
It is great to be an Iowa Wrestling fan.
Go Hawks!