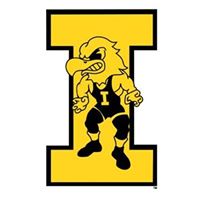 Up first for the new crop of Iowa Wrestling freshman is elite recruit Drake Ayala. In a solid Iowa Wrestling Recruiting Class of 2021 Ayala stands out. This is just the type of recruit that Iowa Wrestling fans want to see coming into the program.  Someone that the entire country wanted. 
Ayala was a three-time state champion at Fort Dodge (Iowa) where he racked up a 171-3 career record as a four time finalist.  Ayala has won three national titles in freestyle and a Super 32 title.  In winning the Junior title at 126 lbs. with a 10-0 tech fall in the finals this summer, Ayala was named as the Outstanding Wrestler of Junior Nationals. He was also named as the Bob Steenlage High School Wrestler of the Year. 
Ayala is from Fort Dodge, Iowa that is known to be a traditional power in wrestling and tough people.  That is a great background for a recruit to have.  Add in that Ayala is trained by Sebolt Wrestling Academy and you have an elite recruit.
Ayala has really improved quite a bit each year through high school and enters the Iowa Wrestling program with a lot of momentum. The one skill that stands out to me is that Ayala is very quick with his shots as he gets in on a leg attack.  Do not blink when this guy wrestles or you will miss a takedown.
With Spencer Lee in his last year, after a redshirt season Ayala will be in strong contention to man the spot at 125 lbs. for the Hawks next year. Those will be big shoes to fill but Ayala certainly has the resume to keep the strong Iowa tradition at 125 going. I look for Ayala to be at 125 for at least two or even three years.  It is always a guess as to how a young wrestler will grow and develop in college.
I cannot imagine a better scenario for a freshman to walk into.  Wrestling behind Spencer Lee along with Terry and Tom Brands for coaches.  No wonder the expectations are so high from wrestling fans.
Drake Ayala is just starting his career as an Iowa Hawkeye. Everything seems to be in place for Ayala to have a great career in the Black and Gold.
It is great to be an Iowa Wrestling fan.
Go Hawks!