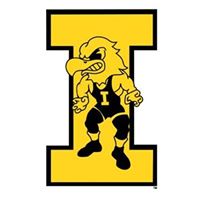 Alex Harmer has been named as the new Strength and Conditioning Coach for Iowa Wrestling. Harmer played football and graduated from Wartburg College with a degree in Fitness Management. He obtained a Masters Degree in Coaching and Administration from Concordia University Irvine and is originally from Boone, Iowa.
Harmer has recently been the Strength and Conditioning Coach at Solon (Iowa) High School.  He had an internship with the Iowa State and North Dakota State Football programs as well as at the University of Iowa. Harmer was the Assistant Strength and Conditioning Coach at Minnesota State (Mankato) for several sports including wrestling.
Harmer is a Certified Strength and Conditioning Specialist (CSCS) through the National Strength and Conditioning Association (NSCA).
As a fan and supporter of Iowa Wrestling I like seeing this.  Strength training has changed so much over the last ten years and a dramatic change over the last 20-30 years. There are a lot of new methods being used that are a contributing factor for athletes that seem to be getting better and at a younger age in sports including wrestling across the country.  
Welcome aboard Alex Harmer.
It is great to be an Iowa Wrestling fan.
Go Hawks!