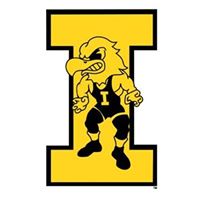 Two recruits that Iowa Wrestling are pursuing had a great showing at Who's Number 1 in Dallas, Texas Saturday night.
Nate Jesuroga of Pleasant Hill, Iowa (Southeast Polk HS) defeated #1 ranked Joey Cruz of California 6-1 at 120 lbs. After no scoring in the first period, Jesuroga scored a takedown in the second and third period and added in an escape and riding time point for the win.
Jesuroga will be a junior at Southeast Polk this season.
This summer Jesuroga won a Bronze at the 2021 Cadet World Freestyle Championships in Budapest, Hungary. That performance put Jesuroga on the radar of all the top college wrestling programs in the country.
The Class of 2023 in Iowa is loaded with elite D-I wrestling talent. There are two huge recruits for Iowa Wrestling to go after in Class of 2023 at home in Iowa.  The Hawks got a commitment from Ben Kueter of Iowa City, Iowa (City High HS) for wrestling and football just yesterday. Jesuroga is the other huge recruit for the Hawks in this class.
I reported that Iowa Assistant Coach Terry Brands visited Gabe Arnold in Georgia when in-house visits began on August 1 for the Class of 2023.  Arnold is a two-time Prep School national champion and will be a junior at national powerhouse Wyoming Seminary.  He was impressive in winning the title at Cadet Nationals last summer and has won a 14U national title as well.
Arnold won two hard fought matches at Who's Number 1 at 170 lbs.  In the only mini-tournament of the event Arnold first defeated fifth ranked Braydon Thompsen of Illinois 3-2.  In the finals Arnold defeated fourth ranked Rocco Welsh of Pennsylvania 2-1 (TB1). Both wrestlers scored an escape in regulation and went into overtime at 1-1.  In the ride-out Arnold got an escape to win the match. 
Hunter Garvin from Iowa City, Iowa (West HS) dropped a 4-3 match to third ranked Jackson Arrington of Pennsylvania at 145 lbs. Bo Bassett added to his elite status with a 19-8 major decision over Seth Mendoza of Illinois at 106 lbs.  Bassett, who won a Cadet Freestyle World title this summer, is the first eighth grader to compete in the history of Who's Number One.   
Iowa Head Coach Tom Brands and Assistant Coach Ryan Morningstar were in Dallas to take in the action of elite recruits.
Recruiting for Iowa Wrestling will be picking up in October with official visits and eventually commitments.  I will keep you updated and posted right here.
WHO'S NUMBER ONE
Dallas, Texas • September 18, 2021
170: No. 4 Rocco Welsh (PA) dec. No. 1 Manny Rojas (MI), 6-4
170: No. 3 Gabe Arnold (GA) dec. No. 5 Brayden Thompson (IL), 3-2
106 (futures): Bo Bassett (PA) maj. dec. Seth Mendoza (IL), 19-8
182: No. 2 TJ Stewart (MD) dec. No. 1 Jack Wehmeyer (PA), 7-4
145: No. 3 Jackson Arrington (PA) dec. No. 1 Hunter Garvin (IA), 4-3
113: No. 1 Braeden Davis (MI) maj. dec. No. 2 Leo Deluca (NJ), 15-7
160: No. 1 Levi Haines (PA) dec. No. 2 Josh Barr (MI), 4-1
106: No. 1 Anthony Knox (NJ) maj. dec. No. 2 Luke Lilledahl (MO), 11-3
152: No. 1 Caleb Henson (GA) dec. No. 2 Jordan Williams (OK), 5-4
195: No. 2 Dylan Fishback (OH) dec. No. 1 Gavin Nelson (MN), 6-1
138: No. 2 Casey Swiderski (MI) dec. No. 1 Jesse Mendez (IN), 7-6
120: No. 1 Nate Jesuroga (IA) dec. No. 3 Joey Cruz (CA), 6-1
170: No. 3 Gabe Arnold (GA) dec. No. 4 Rocco Welsh (PA), 2-1 (TB1)
"Big Man Super Match": No. 1 at 285 Nick Feldman (PA) dec. No. 1 at 220 Christian Carroll (IN), 3-2
It is great to be an Iowa Wrestling fan.
Go Hawks!