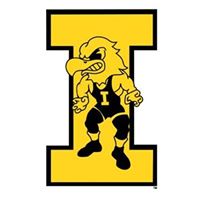 Next up for the incoming freshman is Caleb Rathjen of Ankeny, Iowa. Even with all of the accolades that Rathjen has, I believe he is coming in under the radar for a lot of fans. I believe this is an elite recruit with a lot of potential.
Let's start with his resume that includes being a two-time state champion and four time finalist at Ankeny.  Rathjen has proven himself on the national level real well.  He placed seventh and second in Cadet Freestyle and lost a real close match in the Junior National finals this year to place second at 145 lbs. I thought that last name sounded familiar. I remember watching Caleb's dad Kirk as an undefeated state champion for Iowa Valley in 1992 at 171 lbs. Rathjen also trained and competed for Sebolt Wrestling Academy which is always something to take note of.
There are several reasons why I believe Rathjen offers a lot for Iowa Wrestling fans to take notice of.
For starters Rathjen has been a two sport standout for his career.  He was a starting defensive back on the 4A (largest schools in Iowa) state championship Ankeny football team last season. Rathjen was named 4A Second Team All State on defense. It is pretty rare these days for a big wrestling recruit to not only play football but at that high of a level. For the first time in his career Rathjen will be concentrating on just wrestling this fall and year around.  I believe he has the potential to make a big jump in his skillset in the next year alone as he specializes in just wrestling.
If you want to watch a high school wrestling match at a high level then watch the 145 lbs. Junior National finals from this summer.  Rathjen lost in the closing seconds but showed me athleticism and quickness.  I watched Rathjen in a practice two years ago and knew that he was a grinder and hustler that is typical in Iowa for elite wrestlers.  I did not know he was that quick though. The Iowa staff will work on his technique finishing shots and that will take Rathjen to another level and possibly pretty quick.
After a redshirt season this year in an absolutely loaded room Rathjen will have every opportunity to prepare himself for the challenge of cracking the starting lineup next season.  As far as weight I see him starting out at 149 and possibly ending up at 157. I think he has the frame to fill in.
So Iowa fans we have more in this recruit than maybe some are seeing.  I believe Caleb Rathjen has all of the tools needed to have a great career as an Iowa Hawkeye.
It is great to be an Iowa Wrestling fan.
Go Hawks!