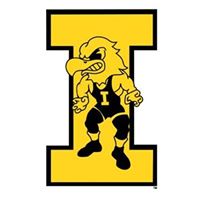 It did not take long for the Iowa Wrestling program to get huge commitments from their recruiting weekend.  18 wrestlers from around the country were in town for their official visit.  It was announced early Saturday afternoon that Iowa received a verbal commitment from Nate Jesuroga.  Later in the day it was announced that Aiden Riggins had also committed to the Hawks. Iowa Wrestling fans should be very happy with these commitments.
Of the 18 recruits that were in town this weekend, Nate Jesuroga was my #1.  I wanted this guy to be a Hawkeye real bad.  Jesuroga caught a lot of media attention this summer when he won a Bronze medal at the 2021 Cadet World Freestyle Championships in Budapest, Hungry at 51kg/112 lbs. He was already a highly ranked recruit out of Southeast Polk High School (Iowa) but the World Bronze elevated Jesuroga to another level of interest to college wrestling programs across the country.
Jesuroga, just a junior, is ranked as the #3 recruit in the pound for pound ranking by Willie Saylor of MatScouts and #1 at 120 lbs. He placed third as a freshman and won a state title this past season.  When you have a top recruit just down the road in the Des Moines area, I felt like Jesuroga was a must get.  Look for Jesuroga to compete at 125 for the Hawks. This current staff at Iowa had great success with another wrestler from Southeast Polk at 125/133 in national champion and four-time All American Cory Clark.
Aiden Riggins of Waverly-Shell Rock High School (Iowa) was a big recruit at a targeted weight for the Hawks.  Riggins is the first member of the Iowa Wrestling Recruiting Class of 2022. He defeated future Iowa teammate Caleb Rathjen in the state finals to win his first title at 152 lbs. last season. He then lost an overtime match in the finals of the Cadet World Team Trials in April and was a Junior Nationals Runner-Up in July.  Riggins is ranked #3 nationally at 160. I look forward to the potential one-two combination of Rathjen and Riggins in the Iowa lineup at 157/165. 
I have to mention that Jesuroga and Riggins are both in the Sebolt Wrestling Academy. After ten years of running SWA, TJ Sebolt is now consistently turning out elite college recruits.  Jesuroga and Riggins join SWA teammate Ben Kueter of City High HS (Iowa City, Iowa) who committed to both Iowa Wrestling and Iowa Football on September 19. Current Hawkeyes Drake Ayala, Caleb Rathjen, and Cullan Schriever competed for SWA and are also all from Iowa.
Southeast Polk and Waverly-Shell Rock are the two dominant 3A programs in Iowa who just continue to put wrestlers into D-I wrestling programs. Iowa is still recruiting wrestlers from both Southeast Polk and Waverly-Shell Rock. Hopefully bringing Jesuroga and Riggins into the program will help the cause.
Welcome aboard Nate Jesuroga and Aiden Riggins as the newest members of the legendary Iowa Wrestling program.
*Rankings by Willie Saylor of MatScouts.
Nate Jesuroga
Class of 2023
Southeast Polk HS, Iowa
State champ, 3rd place
2021 Cadet World Bronze medalist at 51kg/112 lbs. 
#3 P4P
#1 at 120
Aiden Riggins
Class of 2022
Waverly-Shellrock HS, Iowa
State champ, state runner-up, 3rd place
Junior Nationals runner-up
2021 Cadet FS World Team Trials runner-up
#3 at 160
I am expecting more commitments from now through next week as Iowa looks to secure great recruits.  I will keep you up to date right here with any more Iowa Wrestling commitments.
I have been saying for years that Ryan Morningstar is the best college wrestling recruiter in the country and there is nobody better than Tom Brands at closing the deal for a commitment from a recruit.  
Morningstar will find them.
Tommy will sign them.
Terry will train them.
It is great to be an Iowa Wrestling fan.
Go Hawks!