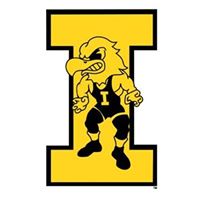 The Hawkeye Open scheduled for Sunday, January 2 has been cancelled.
The bad news hit social media Wednesday afternoon that the 2021 Midlands Championships was canceled. In a very quick turn of events it was announced just hours later that the Hawkeye Open would be held on January 1-2 at the Xtreme Arena in Coralville, Iowa. The Hawkeye Open will be held for any post high school men and women who want to compete. 
The Hawkey Open is being presented by Wrestle Like a Girl and the Iowa City Area Sports Commission.
There are three big reasons why I expect the Hawkeye Open will be a big success with such a short amount of time to prepare.
Josh Schamberger and Luke Eustice are running the tournament. Schamberger was very influential in getting the 2018 World Cup of Freestyle Wrestling to Carver-Hawkeye Arena. Eustice was an NCAA Finalist at Iowa and worked in administration for Iowa Wrestling for years. Dan Gable told me numerous times that you want wrestling people making decisions about wrestling. Schamberger and Eustice are running this show and are wrestling people to a high degree. I have a lot of confidence in these two guys and for good reason.

Xtreme Arena in Coralville is a great new facility and in a great location right off of I-80. Just a mile from legendary Carver-Hawkeye Arena, the epicenter of wrestling in our country. Iowa City knows how to host a wrestling event better than anywhere on planet Earth. 

Iowa Head Coach Tom Brands said he will bring his wrestlers. That alone will attract wrestlers from around the country. 
I am looking forward to seeing the women's wrestling just as much as the men. I am hoping some of our wrestlers on Team USA make the trip to compete here in Iowa.
A new account on Twitter for you to follow: https://twitter.com/HawkeyeOpen
I will keep you up to date right here on my blog as I know more. 
What a great opportunity for the people of Iowa to flex and show once again that wrestling is our sport.
Let's get 'em in the middle.
It is great to be an Iowa Wrestling fan.
Go Hawks!