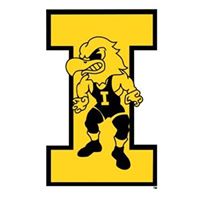 Alex Marinelli showed up on campus with an impressive wrestling resume and a great nickname. "Bull" will be an enduring nickname in Iowa Wrestling history. Bull has been our 165 lbs. wrestler in the Iowa Wrestling lineup since late 2017. Few Iowa Wrestlers man a weight for their entire career. 
Alex Marinelli of Miamisburg (St. Paris Graham HS), Ohio was the top recruit in the Recruiting Class of 2016. After a redshirt Marinelli placed sixth at 165 at the NCAA's. As a sophomore he won a Big Ten title and placed seventh at Nationals. In 2020 Marinelli was a Big Ten Champion and seeded #1 at 165 when the NCAA's were canceled. Last season Marinelli won another Big Ten title and did not place at Nationals. This season Marinelli won his fourth Big Ten title and placed fifth at Nationals.
It is impossible not to look at 2020 when Marinelli was hot off a Big Ten title and the #1 seed at 165 for Nationals only to have it canceled. An injury was a major factor in Marinelli not placing last year. Even with the tough breaks Marinelli always entertained with his constant attack and looking for the big move for a fall.
Bull is another reason to be an Iowa Wrestling fan. This guy went hard all of the time in competition and in the practice room. He only had one gear and that was all out. Add in academic accolades and a fan favorite and you could not ask for more. Bull will be missed.
Best of luck to you Alex "Bull" Marinelli and thank you for how you represented Iowa Wrestling in your career on the mat, in the practice room, as a teammate, and in the classroom.
2017 – Redshirted
2018 – 6th in NCAA
2019 – 7th in NCAA
2020 – #1 seed at Nationals that were canceled, named All American
2021 – NCAA National Tournament Qualifier
2022 – 5th in NCAA 
Career record: 99-13
4-time Big Ten Champion (2019-2022)
5 time Academic All Big Ten
2 time NWCA Scholar Athlete (This season has yet to be announced)
Big Ten Sportsmanship Award
Iowa's Big Ten Sportsmanship Award
It is great to be an Iowa Wrestling fan.
Go Hawks!