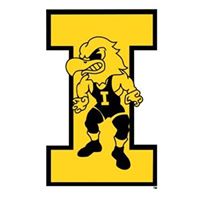 Kaleb Young of Punxsutawney, Pennsylvania was in the Recruiting Class of 2016. Young was the first from the Young Guns Wrestling Club to commit to the Hawks. Wrestlers from Young Guns were a huge part of Iowa winning the 2021 national team title. After a redshirt season Young competed at 165 and 174 in 2018. He competed at 157 for the rest of his career. As a sophomore in 2019 Young placed fifth in the country. 
In 2020 Young was seeded eighth when the NCAA Tournament was canceled. Last season Young placed seventh. He was an NCAA National Tournament Qualifier this season. His two losses were to the #8 and #1 seeded wrestlers in what turned out to be a very tough draw at 157.
Looking back, I am able to better appreciate what Young did as a freshman for the team.  As a career wrestler at 157 he went up one and two weights to compete on the varsity level at Iowa in the rugged Big Ten. Again, as a freshman. That is a team player.
I will remember Kaleb Young for his consistency. Young never had a bad effort day. You could always count on a top effort in competition and in the practice room every single day.
Yet another graduating senior with academic awards every single year he was eligible to receive them. 5 time Academic All Big Ten and 3 time NWCA Scholar Athlete.
Best of luck to Kaleb Young and thank you for how you represented Iowa Wrestling in your career on the mat, in the room, as a teammate, and in the classroom.
2017 – Redshirted
2018 – Competed at 165/174
2019 – 5th at Nationals (157)
2020 – #8 seed at Nationals that were canceled, named All American (157)
2021 – 7th at Nationals (157)
2022 – NCAA National Tournament Qualifier (157)
Career record: 77-31
5 time Academic All Big Ten
3 time NWCA Scholar Athlete (This season has yet to be announced)
It is great to be an Iowa Wrestling fan.
Go Hawks!