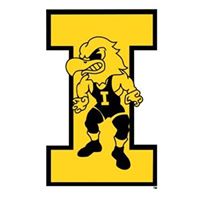 Incoming Iowa Wrestling recruit Gabe Arnold will be competing in the Journeymen World Classic and Duals this weekend. Hudson Valley Community College in Troy, New York will host the individual tournament on Saturday, April 9 and a dual meet tournament on Sunday, April 10.
Arnold will compete at 182 lbs./82 kg for the individual tournament and be a member of Wyoming Seminary for the dual meet competition.
Arnold, originally from Kennesaw, Georgia, attends national powerhouse Wyoming Seminary College Preparatory School in Kingston, Pennsylvania. He committed to the Hawks on January 1 and is a member of the Recruiting Class of 2023. I have stated several times the Class of 2023 is the best Junior recruiting class in the history of Iowa Wrestling by a large margin. 
Elite recruit and 2021 Cadet World Champion Meyer Shapiro of Wyoming Seminary is scheduled to compete. Shapiro is in the recruiting class of 2023.
There will be international teams from around the world competing in this tournament so you can expect some top competition. There will be World champions and medalists making this a great weekend of wrestling to follow. 
Countries that are set up to compete: 
Australia, Austria, Bahamas, Bolivia, Canada, Finland, Germany, Italy, Kazakhstan, Kyrgyzstan, Latvia, New Zealand, Panama, Peru and Uzbekistan.
Among the clubs that are to compete:
Young Guns (PA), Izzy Style (IL), Askren Wrestling Academy (WI), Pinnacle (MN), Monster Garage (CA), Doughboy (New England), and Team New Jersey.
National prep powers Wyoming Seninary and Blair Academy are also listed.
FloWrestling will have coverage from both days of competition on their premium service.
Wrestling begins at 10 AM CST on Saturday and 10:30 AM on Sunday.
It is great to be an Iowa Wrestling fan.
Go Hawks!