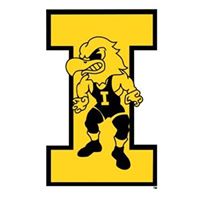 Incoming Iowa Wrestling recruits were in action at the 2022 U20 Nationals in Las Vegas, Nevada this weekend. In the U20 Nationals 97 kg finals Ben Kueter defeated North Carolina commit Noah Pettigrew (The Storm Wrestling Center), 4-3. Kueter was dominating on his way to the finals and had a great tournament. The sky is the limit for Ben Kueter.
By winning U20 Nationals Kueter will automatically qualify for the best-of-three 97 kg finals at the U20 World Team Trials in Geneva, Ohio on June 5.
Incoming Hawk Kolby Franklin defeated Caden Rogers (Diplomat WC) 4-0 to place third at 92 kg. The third place finish qualifies Franklin for the U20 WTT. I was impressed with Franklin's performance this weekend and look forward to him being an Iowa Hawkeye this Fall.
Kueter is in the Iowa Wrestling Recruiting Class of 2023 and Franklin is in the Class of 2022.
Nate Jesuroga placed second at 55 kg at the U17 World Team Trials. In a loaded weight Jesuroga dropped a best of three series in the finals, 2-1, to Jax Forrest of Pennslyvannia. Bout three was 4-4 on criteria. Jesuroga is in the Recruiting Class of 2023.
Next up will be a huge weekend of wrestling on June 3-5 for the U20 and U23 World Team Trials in Geneva, Ohio. I am hoping we see some Iowa Hawkeyes compete at the U23 WTT. I will keep you posted.
It is great to be an Iowa Wrestling fan.
Go Hawks!