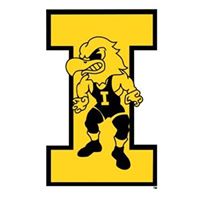 Incoming Iowa Wrestling recruit Ben Kueter (Iowa City, IA/City High HS) captured the Gold at the U20 World Freestyle Championships in Sofia, Bulgaria. Kueter was impressive in winning a World title at 97kg/213 lbs. in his first appearance on a World team.
Kueter won by a 10-0 tech fall and 8-1 decision in the qualifying rounds.The semifinals match for Kueter is one that you need to see. Khutchua of Georgia got off to a quick 8-0 lead on a takedown and turns. Kueter stormed back to make it 9-8. The match ended with Kueter winning a shootout 17-14. As a fan you can't ask for anything more than this match.  This kid has Iowa Hawkeye written all over him.
A link to the U20 World semifinal thriller:
https://www.flowrestling.org/events/7215593-2022-u20-world-championships/videos?playing=7947632
In the finals today Kueter gave up an early takedown. He then got a takedown and a turn before getting the pin in 1:40 and a world title. Gotta love an Iowa kid running an arm bar for a pin in the World finals.  I have to think Dan Gable will approve.
Kueter will return home in time to begin his senior year of high school and to play football where he is an absolute standout linebacker.  
Kueter committed to both Iowa Wrestling and Football last September. I have mentioned several times in this blog that Kueter was the best athlete for an Iowa Wrestling recruit that I have ever known.  And I have known a few over the years.  I was saying that before his senior year and a World title under his belt. Ben Kueter has no limits in what he can accomplish in both football and wrestling at the University of Iowa and beyond.
Kueter is a member of the University of Iowa Wrestling Recruiting Class of 2023. I have already called this class the best in the history of Iowa Wrestling. As a fan you have to be excited about the present and future of Iowa Wrestling.
Congratulations to Ben Kueter for bringing a World title home to our great country and state.
97 kg – Ben Kueter (Iowa City, Iowa/Sebolt Wrestling Academy) – GOLD
WIN Dmitri Duscov (Moldova), 10-0
WIN Niraj Niraj (India), 8-1
WIN Luka Khutchua (Georgia), 17-14
WIN Rifat Gidak (Turkey), fall 1:40
It is great to be an Iowa Wrestling fan.
Go Hawks!