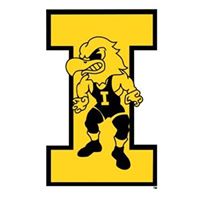 The University of Iowa released the entire 2022-2023 Wrestling schedule. The Hawks will wrestle in legendary Carver-Hawkeye Arena eight times. Iowa will also compete in the inaugural Soldier Salute in Coralville.
The season kicks off with a home dual meet on Sunday, November 13 against Cal Baptist at 1 PM. The Hawks will then hit the road for an east coast road trip with a dual at Army on Friday November 18 followed up by two duals in Albany, NY the following day.
Jacob Warner, Tony Cassioppi, and Real Woods will compete at the NWCA All Star Classic in Austin, Texas on Tuesday, November 22.
Iowa returns home on the Saturday of Thanksgiving weekend with a home dual against Penn on November 26. You always mark your calendar for the Iowa-Iowa State dual meet. The Hawks will host the Cyclones on Sunday, December 4. Iowa will then head to Chattanooga for a Saturday, December 10 dual meet.
After the Christmas break Iowa will compete in the Soldier Salute in Coralville, Iowa on December 29-30. This will provide a great opportunity to see the entire roster compete in person. I am looking forward to a new tradition starting with this tournament.
Iowa then heads into the Big Ten schedule that is always tough. I am sure the entire wrestling world will take notice when Iowa wrestles at Penn State on Friday, January 27.
The Hawks wrap up the regular season with a home dual meet against rival Oklahoma State on Sunday, February 19. Good chance this will be Senior Day and the last opportunity to see some great wrestlers compete in Carver-Hawkeye Arena for the last time in the Black and Gold.
Big Tens are hosted by the University of Michigan in Ann Arbor, Michigan on March 4-5. The Big Show, the NCAA Wrestling Championships will be in Tulsa, Oklahoma on March 16-18.
I have said for years that Iowa Wrestling is my entertainment. I plan on being very entertained by the Hawks this season. The home schedule will provide some great matchups to see in person.  I can't wait.
2022-2023 Iowa Wrestling Schedule
Sunday, November 13 – Cal Baptist (1PM)
Thursday, November 17 – at Army (West Point, NY)
Friday, November 18 – at Arm Bar at the Armory: Sacred Heart & Buffalo (Albany, NY)
Tuesday, November 22 at NWCA All Star Classic (Austin, TX)
Saturday, November 26 – Penn
Sunday, December 4 – Iowa State
Saturday, December 10 – at Chattanooga (Chattanooga, TN)
December 29-30 – at Soldier Salute (Coralville, Iowa)
Friday, January 6 – Illinois
Sunday, January 8 – at Purdue
Friday, January 13 – Northwestern
Friday, January 20 – Nebraska
Sunday, January 22 – at Wisconsin
Friday, January 27 – at Penn State
Friday, February 3 – at Minnesota
Friday, February 10 – Michigan
Sunday, February 19 – Oklahoma State
Sat/Sun March 4-5 at Big Tens (Ann Arbor, Michigan)
Thurs-Sat March 16-18 – at NCAA National Tournament (Tulsa, OK)
It is great to be an Iowa Wrestling fan.
Go Hawks!