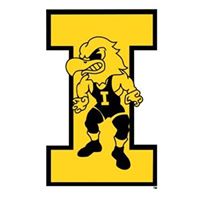 It is official. The National Letter of Intents have been received and the Iowa Wrestling Recruiting Class of 2023 is in the books. This is nothing short of an incredible recruiting class. In my opinion the best recruiting class in the history of Iowa Wrestling.
Ben Kueter of Iowa City, Iowa (City High HS) was the first recruit to commit to the Class of 2023 when he committed to Iowa Wrestling and Iowa Football in September of 2021. Kueter is a three-time undefeated state champion in wrestling and a highly ranked recruit at linebacker in football. Kueter is a Butkus Award semi-finalist  for the best high school linebacker in the country. This past summer Kueter won a U20 World freestyle title in Sofia, Bulgaria. He is currently ranked as the #2 pound-for-pound wrestler in the country by Flo.
Kueter is also a standout on the City High baseball team and has competed at a high level on the track team. I stated on this blog last year that Ben Kueter is the best all around athlete for an incoming Iowa wrestler that I have ever seen. He widened the gap for that distinction over the last year. This unique skill set reminds me of World freestyle champion and Super Bowl winning team member Stephen Neal. Kueter is projected to compete at Hwt.
Iowa had a huge recruiting weekend on October 9-10 in 2021. Elite recruit Nate Jesuroga of Pleasant Hill, Iowa was the first to commit that weekend. Jesuroga won a Bronze medal at the 2021 Cadet World Freestyle Championships in Budapest, Hungary. Jesuroga is a two-time state champion for powerhouse Southeast Polk and is ranked #1 in the country at 126 by Flo and #11 P4P by MatScouts. Jesuroga will start his career at 125 and possibly move up later in his career. Everything about Jesuroga make him just what you want to see in the Iowa lineup. Great future.
Ryder Block of Waverly-Shell Rock HS (Iowa) committed to the Hawks the week following the huge recruiting weekend in 2021. Block is a two-time state champion and state runner-up at WSR. This past summer Block shot up the recruiting rankings by winning a Junior National freestyle title in dominating fashion at 138 lbs. 
Block is currently ranked #2 at 138 lbs. nationally. I have stated for over a year that Block has been under rated in the national rankings. I believe this wrestler has some great years in the Black and Gold of the Hawks ahead of him.
Hawk fans got a great New Year's Day present when elite recruit Gabe Arnold committed to Iowa. Arnold is originally from Kennesaw, Georgia and competed for national powerhouse Wyoming Seminary in Pennsylvania. Arnold moved to Iowa City this summer and will be a teammate of Kueter at City High this season.
Arnold was a 14U and 16U freestyle and Greco-Roman national champion. Arnold is a powerful wrestler that has a ton of potential. Hawk fans are going to like this recruit and I see him becoming a fan favorite. Arnold has been ranked in the top six nationally and is projected to compete at 174/184.
Cody Chittum of Tennessee committed to the Hawkeye program in July. Chittum is ranked as the #1 overall recruit in the country in the Class of 2023 by FloWrestling and  #2 pound-for-pound wrestler in the country by MatScouts. Chittum won a Junior National Freestyle title in Fargo at 152 lbs. last summer in dominating fashion.
While competing for Blair Academy, Chittum faced the best competition in the country. Chittum is projected to compete at 149/157 for the Hawks. I look for Chittum to contend for the varsity spot at 149 next season as a true freshman. This guy is t-o-u-g-h.
This was an outstanding recruiting class with the first four commitments. The addition of Chittum in my opinion makes the Class of 2023 the best recruiting class in the history of Iowa Wrestling. Four wrestlers ranked in the top 2 and one that has been ranked as high as #3. Factor in one is a World champion and another a World medalist. This is an amazing recruiting class.
As I have done for years I will be posting blogs with upcoming competitions and results for our incoming recruits throughout the upcoming high school season every week. These recruits are now officially Iowa Hawkeyes. I will keep you up to date on all of their matches.
I am looking forward to seeing these elite recruits make their way from "The greatest wrestling training facility…in the world!" and through a tunnel to be met by yet another sellout crowd in legendary Carver-Hawkeye Arena. I will be one of those fans. I cannot wait.
The future looks great for Iowa Wrestling.
Iowa Wrestling Recruiting Class of 2023
Nate Jesuroga – 125
Ryder Block – 141/149
Cody Chittum – 149/157
Gabe Arnold – 174/184
Ben Kueter – Hwt
It is great to be an Iowa Wrestling fan.
Go Hawks!