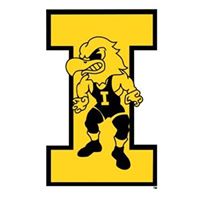 Members of the Iowa Wrestling team will be competing at the Luther Open on Saturday, November 12. Competition begins at 9 AM at the Regents Center Gymnasium in Decorah, Iowa.
Cullan Schriever (133) and Joe Kelly (157) will be competing unattached in the Elite division. Schriever is in the running for the varsity spot at 133 for the Hawks.
Six true freshmen from the Recruiting Class of 2022 will make their college debut. Mickey Griffith (184), Kolby Franklin (197), and Bradley Hill (Hwt) will be in the Elite division. Jace Rhodes (133), Easton Fleshman (Hwt), and Gage Marty (Hwt) will compete in the Silver Bracket for freshman only. 
FloWrestling will be covering the Luther Open on their premium service. 
The varsity will start their season at home in legendary Carver-Hawkeye Arena against Cal-Baptist at 1:30 on Sunday, November 13.
It is great to be an Iowa Wrestling fan.
Go Hawks!