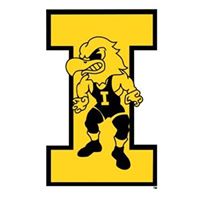 InterMat released their new rankings. There were not a lot of changes for the Hawks. There were changes in the team race. It is still Penn State – Iowa for 1-2 in both the Tournament and Dual rankings. We do have new teams ranked in #3 Arizona State and #4 Michigan for Tournament and #3 Ohio State and #4 Arizona State for Dual. 
The Hawks are led by #1 ranked Spencer Lee and #2 ranked Real Woods and Jacob Warner. Tony Cassioppi is ranked #4, Max Murin is up one spot to #6 and Abe Assad at #8. 
Brody Teske stayed at #12 and Patrick Kennedy remained at #13. Cobe Siebrecht made his first appearance in the rankings at #29 at 157. Iowa is not ranked at 174.
We saw Cullan Schriever compete last weekend for the Hawks at 133 for all three dual meets. Schriever won a 2-0 decision over Army followed by a 20-13 decision over Sacred Heart and a 23-8 tech fall over Buffalo. Schriever is now 7-0 for the year. 
I see the battle to last through the season between Schriever and Teske. I believe that by March both Teske and Schriever will have the ability to score points and become an All American at the NCAA National Tournament at 133.
Iowa will host Penn in legendary Carver-Hawkeye Arena on Saturday at 2 PM. 
November 22 InterMat Rankings
125 Spencer Lee – #1
133 Brody Teske – #12
141 Real Woods – #2
149 Max Murin – #6
157 Cobe Siebrecht – #29
165 Patrick Kennedy – #13
174 Drake Rhodes – NR
184 Abe Assad – #8
197 Jacob Warner – #2
Hwt Tony Cassioppi – #4
Tournament
Penn State – 100

Iowa – 82.5

Arizona State – 57

Michigan – 54.5
Dual Meet
Penn State

Iowa

Ohio State

Arizona State
Full rankings: https://intermatwrestle.com/rankings/college
It is great to be an Iowa Wrestling fan.
Go Hawks!