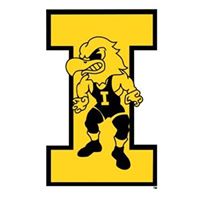 The Glen Brand Hall of Fame of Iowa Class of 2023 has been announced. There were three former Iowa Hawkeye wrestlers named to the GBHOF: Lenny Zalesky, John Oostendorp, and Mark Reiland.
The Glen Brand Hall of Fame is located inside the National Wrestling Hall of Fame Dan Gable Museum in Waterloo, Iowa. A banquet honoring the Class of 2023 will be held at Prairie Links Golf and Events Center in Waverly, Iowa on Friday, June 23.
To purchase tickets:  https://dgm-nwhof.ticketleap.com/2023-glen-brand-wrestling-hall-of-fame-of-iowa/
You can contact the National Wrestling Hall of Fame Dan Gable Museum at (319) 233-0745 or dgmstaff@nwhof.org.
From NWHOF.org:
Lennie Zalesky, a native of Cedar Rapids, Iowa, was a state champion for Cedar Rapids Prairie High School. He was a three-time All-American and three-time Big Ten champion who helped the University of Iowa win four straight NCAA team championships. After a fourth-place finish as a sophomore, Zalesky went 73-2-1 as a junior and senior while advancing to the NCAA finals at 142 pounds both seasons. He won the Henry Deglane Tournament in Nice, France in 1983 and the Cerro Pelado International Tournament in Cuba in 1986 while capturing silver medals at the 1983 Pan American Games, the 1984 World Cup, the 1984 Tbilisi Tournament and the 1983 Canadian Cup. Zalesky received bachelor's degrees in finance, education and Russian language from Iowa while earning his master's degree in Slavic linguistics and literature from the University of Indiana. After coaching at his alma mater from 1986-90, he spent eight seasons as the head wrestling coach at Palmer High School in Palmer, Alaska. Zalesky was inducted into the Alaska Wrestling Hall of Fame in 2010. He then coached nine years at the University of California, Davis, being named Pac 10 Coach of the Year in 2007. Zalesky was head coach at California Baptist University from 2011 until his retirement in 2022. He was named NCAA Division II Coach of the Year in 2017 and Rocky Mountain Athletic Conference Coach of the Year in 2016. 
John Oostendorp, a native of Nichols, Iowa, was an all-state linebacker in football and the first state champion wrestler in the history of West Liberty High School. He pinned all but one opponent as a senior and won his state finals match 10-0. Oostendorp wrestled and played linebacker at the University of Iowa. A four-year starter at heavyweight, he was a two-time All-American and a Big Ten champion while compiling a career record of 108-26 with 40 pins. As a senior, Oostendorp defeated eventual Olympic and World champion Rulon Gardner in the third-place match. Oostendorp won the Espior U20 National Championships in 1989 and represented the United States at the U20 World Championships, finishing fifth. His redshirt freshman year at Iowa, he won the Junior Greco-Roman National Championships and represented the U.S. at the Junior World Championships, finishing fifth. Oostendorp competed in the 1995 World Championships and won the 1996 Greco-Roman national championship. He was the alternate for the 1996 Olympics and the 1997 World Championships. Oostendorp is in his 22nd year as the head wrestling coach for Coe College in Grand Rapids, Iowa. He is a three-time American Rivers Conference Coach of the Year and was named National Wrestling Coaches Association National Coach of the Year in 2009. Oostendorp led the Kohawks to back-to-back fourth-place finishes at the 2008 and 2009 NCAA Championships, the two highest finishes in school history. He has guided Coe to 10 Top 10 finishes, including six trophy finishes, at the NCAA tournament. Oostendorp has coached seven national champions and more than 90 All-Americans during his career with the Kohawks. 
Mark Reiland will posthumously receive the Bob Siddens High School Excellence Award. Reiland was an assistant coach at Iowa City West High School from 1992 to 1996 before becoming head coach at Solon High School in 1997. After going 25-12-1 in two seasons at Solon, he returned to Iowa City West as head coach. From 1999 to 2018, he led the Trojans to a 411-96 record with five state dual team titles and two traditional state team titles. His teams also had three state dual runner-up finishes and five traditional state team runner-up finishes. Iowa City West won 14 Mississippi Valley Conference dual meet titles and 10 tournament titles. Reiland coached 152 state qualifiers with 26 state champions and 95 state place-winners. 
The Bob Siddens High School Excellence Award is presented to an Iowa high school wrestling coach who exemplifies the high standards that Siddens set during his coaching career at Waterloo West. Siddens was inducted into the GBHOF in 2003 and was the inaugural recipient of the award bearing his name in 2012.
It is great to be an Iowa Wrestling fan.
Go Hawks!