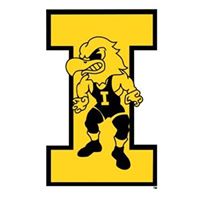 All four members of the Hawkeye Wrestling Club that competed medaled at the Henri Deglane in Nice, France. Austin DeSanto and Pat Lugo won the Gold, Alex Marinelli the Silver, and Cody Chittum the Bronze.
DeSanto won the title at 61 kg/134 lbs. After a 6-3 decision win in the quarterfinals, DeSanto had a barn burner of  a match in the semifinals against Nahshon Garrett. After falling behind 10-2 after the first period, DeSanto scored a takedown with 0:05 left to defeat Garrett, 14-13. DeSanto then defeated Shelton Mack of USA 5-4 for the Gold.
Lugo was 4-0 to win the title at 65 kg/143 lbs. After a first round pin Lugo scored wins of 4-3 and 7-2 before defeating Kizhan Clarke of Germany 7-0 for the title.
Marinelli won by 10-0 tech fall in the Round of 16 and the quarterfinals before winning a 3-2 decision in the semifinals. In the finals Marinelli dropped a 6-5 decision to Evan Wick to get the Silver at 79 kg/174 lbs.
Cody Chittum dropped a 10-10 match in the quarterfinals on criteria. After winning by a tech fall in Repechage Chittum defeated Leon Gerstenberger of German 5-1 to win the Bronze at 70 kg/154 lbs. Chittum was the number one overall recruit in the country in the Class of 2022. He is taking a grey shirt season and will enroll at Iowa with the Class of 2023 in August. Chittum has a great future ahead of him with the Hawks.
HWC Head Coach Daniel Dennis was a coach for Team USA for this tournament.
Great job and congratulations to our HWC wrestlers.
HWC results for Henri Deglane in Nice France
Austin DeSanto 61 kg – Gold
Quarters:6-3 win over Giorgi Goniashvili, GEO
Semifinals:14-13 win over Nahshon Garrett, USA
Finals: 5-4 over Shelton Mack, USA
Pat Lugo 65 kg – Gold
Rd of 16: Fall over Aminojon Sadulloev, POL
Quarters:4-3 over Nico Megerle, GER
Semifinals:6-2 over Matt Kolodzik, USA
Finals: 7-0 over Kizhan Clarke, GER
Cody Chittum 70 kg – Bronze
Quarters: 10-10 loss to Kevin Henkel, GER
Repechage: 16-5 over Muhannad Abdurachmanov, BEL
Bronze: 5-1 over Leon Gerstenberger, GER
Alex Marinelli 79 kg – Silver
Rd of 16: 10-0 over Callum McNeice, CAN
Quarters: 10-0 over Gabriel Ramos, ESP
Semifinals: 3-2 Evsem Shvelidze, GEO
Finals: 6-5 loss Evan Wick, USA
It is great to be an Iowa Wrestling fan.
Go Hawks!