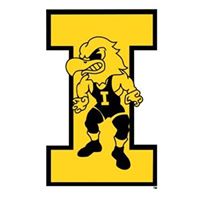 We have a lot to look forward to this Friday, January 20 as the Hawks will face #5 Nebraska at home. You can always count on an intense battle with every match in this rivalry. The Hawkeye Wrestling Club will have a Pre-Match Social at Joe's Place starting at 6 PM. Joe's Place is located at 115 Iowa Avenue in downtown Iowa City. 
Following the meet there will be a H.A.W.K. Party at the Coralville Radisson in the Kinnick Room. The Coralville Radisson is located at 1220 1st Avenue just North of I-80 at Exit 242.
The Hawkeye Area Wrestling Klub (H.A.W.K.) began in 1978 and is the oldest college wrestling fan support organization in the country. Attending a H.A.W.K. Party is a big part of the Iowa Wrestling experience for a big dual meet for a lot of fans for decades.
For more information and to join the H.A.W.K. –  http://hawkklub.com/
Iowa will host #5 Nebraska at 8 PM inside legendary Carver-Hawkeye Arena before a sellout crowd. I am expecting a packed house of rowdy Iowa Wrestling fans.
It is great to be an Iowa Wrestling fan.
Go Hawks!