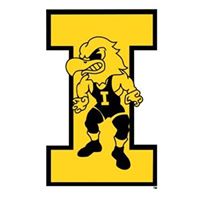 The Iowa Hawkeyes will host #11 Northwestern in a Big Ten dual meet on Friday, January 13 at 8 PM CST. Northwestern is ranked #11 for tournament and #6 for dual meet. Iowa is ranked #2 in both. A sold out Carver-Hawkeye Arena, live coverage on ESPN U and the radio, nationally ranked wrestlers with great matchups. This is going to be a big dual meet.
The probable lineups released by the University of Iowa show that the Hawks may not have their entire lineup in action. #2 ranked Real Woods at 141 and #8 ranked Jacob Warner at 197 are not listed. Woods did not wrestle last weekend.
#1 Spencer Lee will face #3 Michael DeAugustino in a big match at 125. Brody Teske and Cullan Schriever are both listed at 133 to face #13 Chris Cannon.
At 149 #4 Max Murin will face #5 Yahya Thomas who recently won the 149 lbs. title at Midlands. These two always have a close match with the explosive Thomas and Murin as a grinder. This should be a fun match to watch.
#20 Cobe Siebrecht will return to the lineup at 157 to face #9 Trevor Chumbley who just won a Midlands title.
At 165 we see both #10 Patrick Kennedy and Aiden Riggins listed to face #23 Maxx Mayfield. Kennedy looked great with the best win of his career to date with a 15-4 major decision over #11 Danny Braunagel of Illinois on Friday. On Sunday true freshman Aiden Riggins stepped in at 165 with an impressive 9-5 win at Purdue for his first career dual meet.
At 174 #16 Nelson Brands will face #20 Troy Fisher. #8 Abe Assad will face unranked Evan Bates at 184.
Zach Glazier will replace Warner at 197 to face #28 Andrew Davison.
At Hwt we have #3 Tony Cassioppi vs. #4 Lucas Davison. Davison recently won the Hwt title at Midlands without surrendering a single point. This will be the biggest challenge for Cassioppi so far this year in what is sure to be a close match that will go down to the wire.
With the lineup listed by Iowa this is going to be a real close and hard fought dual meet. Facing the #6 dual meet ranked team in the country with at least two and maybe as many as three starters out the Hawks have their work cut out for them. Depending on the Iowa lineup Northwestern may be favored by rankings in five matches. Bonus points may decide this dual meet.
This will be the 300th dual meet in the history of Carver-Hawkeye Arena. The first athletic event ever held at Carver-Hawkeye Arena was on January 3, 1983 when Iowa Wrestling topped Oklahoma, 35-7.
The meet will be shown live on ESPNU. Steven Grace and Mark Ironside will call the action on 800 AM KXIC, iheartradio.com, and hawkeyesports.com. 
#2 IOWA HAWKEYES (9-0, 2-0) vs. #11 NORTHWESTERN WILDCATS (2-0, 1-0)
8 PM CST in sold out Carver-Hawkeye Arena
Televised on ESPNU
Radio and iheartradio at 800 AM KXIC
125 
1/1/1 Spencer Lee RS Sr. Murrysville, Pa./Franklin Regional 7-0 
4/3/7 Michael DeAugustino RS Sr. Palm Coast, Fla./Flagler Palm Coast 1-1
133 
12/–/– Brody Teske Jr. Fort Dodge, Iowa/Fort Dodge (Penn State/UNI) 2-0 -or- –/17/–/– Cullan Schriever So. Mason City, Iowa/Mason City 7-5 
10/13/11 Chris Cannon RS Jr. Oceanport, N.J./Blair Academy 9-4 
141 
Drew Bennett Sr. Fort Dodge, Iowa/Fort Dodge 7-5 
11/10/6 Franki Tal-Sharar RS So. Delray Beach, Fla./American Heritage 3-1
149 
9/4/9 Max Murin RS Sr. Ebensburg, Pa./Central Cambria 12-1 
4/5/4 Yahya Thomas Gr. Chicago, Ill./Mount Carmel 12-1
157 
–/20/16 Cobe Siebrecht Jr. Lisbon, Iowa/Lisbon 6-1 
12/9/10 Trevor Chumbley RS Jr. St. Charles, Ill./Marmion Academy 17-2
165 
10/10/7 Patrick Kennedy So. Kasson-Mantorville, Minn./Kasson-Mantorville 10-1 -or- Aiden Riggins Fr. Janesville, Iowa/Waverly-Shell Rock 6-4 
–/23/19 Maxx Mayfield RS So. Lincoln, Neb./Lincoln East 17-5
174 
17/16/15 Nelson Brands Sr. Iowa City, Iowa/West 3-2 
 –/20/– Troy Fisher RS Jr. Garden Plain, Kan./Goddard 13-4 -or- Ankhaa Enkhmandakh RS Jr. Concord, Calif./De La Salle 4-7
184 
9/8/8 Abe Assad Jr. Carol Stream, Ill./Glenbard North 12-1 
Evan Bates RS Fr. Chesterton, Ind./Chesterton 11-9
197 
Zach Glazier Jr. Albert Lea, Minn./Albert Lea 5-1 
–/28/– Andrew Davison Gr. Chesterton, Ind./Chesterton 13-6
285 
3/3/3 Tony Cassioppi Sr. Roscoe, Ill./Hononegah 13-0
4/4/4 Lucas Davison RS Sr. Chesterton, Ind./Chesteron 11-1
(WIN/Intermat/AWN Rankings)
It is great to be an Iowa Wrestling fan.
Go Hawks!