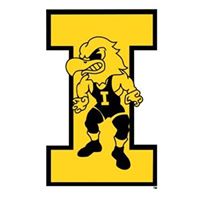 I went to the Cliff Keen-Mike Duroe Invitational on Saturday at Cornell College in Mt. Vernon, Iowa. The name of the tournament should be a draw to start when you have Cliff Keen and former Cornell College coach Mike Duroe in the title. Coach Duroe touched a lot of lives in his wrestling career and he is indeed missed.
My main interest was to watch two wrestlers. Brett Shoenherr of Wisconsin-Platteville is the son of my first cousin Jennifer (Callahan) Schoenherr. I have followed Brett's career from the start. Originally from Canton, Iowa Brett was a state place winner at Midland High School. Brett placed third at Hwt Saturday. 
Brett is ranked #11 in the country in D-III at Hwt in the recent NWCA Rankings and Wisconsin-Platteville is ranked #13.
Zeb Gnida won the title at 174 for Loras. I went to the University of Iowa with Zeb's parents Andy and Michelle. Andy made his way from Somers, New York to wrestle for Gable at Iowa as a member of the Recruiting Class of 1984. Zeb and older brother Louis were both state place winners at Solon (Iowa) in high school where Andy was an assistant coach for years.
For his performance on Saturday and a dual meet win by fall on Thursday against Central Zeb was named as the overall American River Conference (ARC) Male Athlete of the Week and also the Wrestler of the Week. Zeb, a junior, is ranked #10 at 174 in the NWCA Rankings and Loras is #8.
Gabe Fiser of Grundy, Virginia is the son of Iowa Hawkeye two-time All American Travis Fiser and competes at 165 for Loras.
There are some familiar faces on the Loras coaching staff. Former Iowa Hawkeye Jeren Glosser is the head coach and Aaron Costello is a volunteer coach at Loras. Glosser (Eddyville, Iowa) was a four year letter winner at Iowa and graduated in 2020. Costello (Dubuque, Iowa) was also a four year letter winner at Iowa and graduated last spring.
I was able to briefly talk to Carter Happel. I have followed Carter since his wrestling career started in my hometown of Lisbon, Iowa. Carter is now an assistant coach at Cornell College. Carter was a four year letter winner at Iowa and graduated in 2021. 
I saw several t-shirts stating: "Coach O is my homeboy." This would be Coe College Wrestling referring to head coach John Oostendorp. I have known Big O for quite a few years from when he was a two-time All American for Gable at Iowa in 1992 and 1993. Originally from Nichols, Iowa (West liberty HS) Oostendorp is in his 22nd year as the head coach at Coe who are currently ranked #23 in the country.
Oostendorp looks like he could still compete out there with the young guys and he would be about 53 years old. No surprise at all of the success and popularity of Big O at Coe over the years. Great guy.
Former Iowa Hawkeye Topher Carton is an assistant coach at Coe. Carton was an NCAA National Tournament Qualifier for Iowa at 141 lbs. in 2017. Carton is also the Director of the Eastern Iowa Wrestling Club.
The indoor track at Cornell is a great facility to hold a wrestling tournament. Eight mats with plenty of room left over can make a tournament run pretty quick. This was also the first time that I have seen the new upgrades to the athletic facilities at Cornell. Richard and Norma Small have been very influential for Cornell College sports for years with their support. 
I was also able to see real good officiating on Saturday. I have known some of the referees that were on the mats for over thirty years. Several officials you may recognize from Iowa Wrestling meets or even the D-I NCAA Championships. There will be a huge turnover when the group of referees that I know retire in the near future. I fear that it will be difficult if not impossible to replace this group of officials from eastern Iowa. I anticipate a big drop off when this group retires.
Barron "Bear" Bremner was the wrestling coach and athletic director at Cornell for years.  A legend in these parts. Bear played football for Forest Evashevski and wrestled for Dave McCuskey at the University of Iowa. He was influential in working with his old Iowa wrestling teammate Gary Kurdelmeier in getting a young Dan Gable to leave Iowa State and coach at Iowa. Bear also hired his replacement for head wrestling coach at Cornell when he selected Steve DeVries. Coach DeVries was a Big Ten champ for McCuskey at the University of Iowa and retired as the winningest coach in Cornell wrestling history.
I have to mention that Cornell College was the first college to win an NCAA title in wrestling in the history of the state of Iowa in 1947. Cornell was also the first college outside of Oklahoma to win the NCAA Championships and remains as the only private school to ever win an NCAA team title. The only mention of this great accomplishment was a trophy in the bottom right corner of a trophy case. Underneath conference title trophies. Disappointing.
A Mike Chapman story to end this blog. Mike, my mentor and the greatest wrestling writer of all time, by far, is very well read on Cornell College. He told me about three-time NCAA champion Lowell Lange. Originally from Waterloo, Iowa (West HS) where he was a two-time state champion, Lange competed for Cornell College. In 1947 Lange won an NCAA title as a true freshman for legendary coach Paul Scott on that 1947 championship team. 
Lange was injured in a car accident just days before the 1948 NCAA National Tournament and was unable to compete. The injuries also kept Lange from competing for a spot on the 1948 Olympic team. Lange came back and dominated the country and won two more NCAA titles in 1949 and 1950. Only a car accident kept Lowell Lange of Cornell College from becoming the first ever 4-time NCAA champion.
May I recommend to wrestling fans to support D-III wrestling. We have a lot of quality D-III programs right here in Iowa. This is entertaining wrestling that all Iowa Wrestling fans would enjoy. 
The Cliff Keen-Mike Duroe Invitational was a great time for me. Family, friends, tough wrestling and coaching, top officiating, impressive facilities, and some great wrestling history. That makes for a great day for me to be a wrestling fan. One more reason to love wrestling.
It is great to be an Iowa Wrestling fan.
Go Hawks!