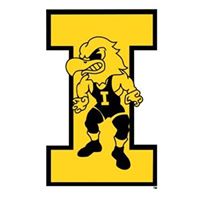 We had a busy weekend of Iowa Wrestling. We had the Nebraska dual meet on Friday. Four members of the Hawkeye Wrestling Club competed in France and our recruits were in action on Saturday. And then the Wisconsin dual meet on Sunday. That is a big weekend. I wanted to do a recap before we look forward.
The Hawks looked great in a 34-6 win over #5 Nebraska on Friday night. Carver-Hawkeye Arena was packed and the fans were entertained with a great dual meet. Iowa won eight of ten matches in what I believe was the only time we have had the entire starting lineup compete this season.
I always like the Military Appreciation night they have for a home dual each year. The huge American flag covering the wrestling mat for an outstanding rendition of the Star Spangled Banner was amazing. The interview with former Iowa wrestler Colonel Steve Banach was inspiring. Just a great night.
On Sunday the Hawks went down to the wire and topped #13 Wisconsin in Madison, 19-18. The dual meet score was 18-18 with both teams winning five matches and both teams won a match by fall. The third criteria is total match points. Iowa edged Wisconsin in match points 31-24 and was awarded the criteria point for a 19-18 dual meet win.
Spencer Lee is…Spencer Lee. I have been writing that in this blog since his true freshman season. I can think of no other way to describe him. The way that Spencer Lee is pinning top ranked wrestlers and making it look easy is unlike anything I have seen before.
I really like what I have seen from Brody Teske at 133. This guy is tough. He came off the mat Friday night after a dominating win and looked like he could go another match. He is in shape. I believe Teske will continue to improve with each match in competition and be there for us in the tournament season.
Real Woods had a big 6-4 decision over #4 Brock Hardy of Nebraska. That was a hard fought match. As with Teske I believe Woods will continue to improve with mat time. Woods then defeated #26 Joseph Zargo of Wisconsin, 9-2
After a pin against Nebraska Max Murin dropped a 5-2 match to #2 Austin Gomez of Wisconsin. Murin fought hard against a talented Gomez. I still see Murin continuing to improve throughout the season.
Cobe Siebrecht dropped a 7-2 decision to #1 Peyton Robb against Nebraska. He responded with an impressive 3-2 win over #18 Garrett Model of Wisconsin. Siebrecht looks better with each match. I am certainly not putting any limitations on what Cobe Siebrecht can do this season at the NCAA National Tournament.
Patrick Kennedy won a major decision over Nebraska, 12-4. Against Wisconsin Kennedy dropped a 4-3 decision to #6 Dean Hamiti. For Kennedy to be an All American this season he is going to have to beat someone like Hamiti at Nationals. 
Nelson Brands dropped a hard fought 3-2 decision to #2 Mikey Labriola of Nebraska at 174. Against Wisconsin true freshman Drake Rhodes lost 6-5 to Josh Otto.
Abe Assad defeated #13 Lenny Pinto of Nebraska and was pinned by unranked Tyler Dow at Wisconsin.
Jacob Warner defeated #18 Silas Allred of Nebraska, 3-2. True freshman Kolby Franklin dropped a 4-0 decision to #13 Braxton Amos of Wisconsin.
Tony Cassioppi continues to have an impressive season. After getting the points for a rare tech fall at Hwt Cassioppi settled in for the fall against Nebraska. For the third time this season Cassioppi took the mat with the dual  meet on the line. Big Cass came through with a 4-1 decision over always tough #11 Trent Hilger of Wisconsin.
Up next is #2 Iowa at #1 Penn State on Friday at 7:30 PM CST on BTN. I have no doubt the entire wrestling community will take notice with this dual meet.
#2 Iowa 34, #11 Nebraska 6
125 – #1 Spencer Lee (UI) pinned #7 Liam Cronin (NEB), 0:38; 6-0
133 – Brody Teske (UI) dec. Kyle Burwick (NEB), 5-2; 9-0
141 – #2 Real Woods (UI) dec. #4 Brock Hardy (NEB), 6-4; 12-0
149 – #11 Max Murin (UI) pinned Dayne Morton (NEB), 3:47; 18-0
157 – #1 Peyton Robb (NEB) dec. #16 Cobe Siebrecht (UI), 7-2; 18-3
165 – #9 Patrick Kennedy (UI) major dec. Bubba Wilson (NEB), 12-4; 22-3
174 – #3 Mikey Labriola (NEB) dec. #16 Nelson Brands (UI), 3-2; 22-6
184 – #9 Abe Assad (UI) dec. #13 Lenny Pinto (NEB), 6-5; 25-6
197 – #8 Jacob Warner (UI) dec. #18 Silas Allred (NEB), 3-2; 28-6
285 – #3 Tony Cassioppi (UI) pinned Cale Davidson (NEB), 6:39; 34-6
#2 Iowa 19, #16 Wisconsin 18
125 – #1 Spencer Lee (UI) pinned #6 Eric Barnett (UW), 4:38; 6-0
133 – Brody Teske (UI) dec. #28 Taylor LaMont (UW), 4-0; 9-0
141 – #2 Real Woods (UI) dec. #26 Joseph Zargo (UW), 9-2; 12-0
149 – #2 Austin Gomez (UW) dec. #7 Max Murin (UI), 5-2; 12-3
157 – #21 Cobe Siebrecht (UI) dec. #18 Garrett Model (UW), 3-2; 15-3
165 – #6 Dean Hamiti (UW) dec. #10 Patrick Kennedy (UI), 4-3; 15-6
174 – Josh Otto (UW) dec. Drake Rhodes (UI), 6-5; 15-9
184 – Tyler Dow (UW) pinned No. 8 Abe Assad, 1:24; 15-15
197 – #13 Braxton Amos (UW) dec. Kolby Franklin (UI), 4-0; 15-18
285 – #3 Tony Cassioppi (UI) dec. #11 Trent Hilger (UW), 4-1; 18-18
Iowa wins on the third criteria with a 31-24 advantage in match points in non-fall matches.
All four members of the Hawkeye Wrestling Club that competed medaled at the Henri Deglane in Nice, France on Saturday. Austin DeSanto and Pat Lugo won the Gold, Alex Marinelli the Silver, and Cody Chittum the Bronze.
HWC Head Coach Daniel Dennis was a coach for Team USA for this tournament.
DeSanto won the title at 61 kg/134 lbs. After a 6-3 decision win in the quarterfinals, DeSanto had a barn burner of  a match in the semifinals against Nahshon Garrett. After falling behind 10-2 after the first period, DeSanto scored a takedown with 0:05 left to defeat Nahshon Garrett, 14-13. DeSanto then defeated Shelton Mack of USA 5-4 for the Gold.
Lugo was 4-0 to win the title at 65 kg/143 lbs. After a first round pin, Lugo scored wins of 4-3 and 7-2 before defeating Kizhan Clarke of Germany, 7-0 for the title.
Marinelli won by 10-0 tech fall in the Round of 16 and the quarterfinals before winning a 3-2 decision in the semifinals. In the finals Marinelli dropped a 6-5 decision to Evan Wick to get the Silver at 79 kg/174 lbs.
Cody Chittum dropped a 10-10 match in the quarters on criteria. After winning by a tech fall in Repechage Chittum defeated Leon Gerstenberger of German 5-1 to win the Bronze at 70 kg/154 lbs. Chittum was the number one overall recruit in the country in the Class of 2022. He is taking a grey shirt season and will enroll at Iowa with the Class of 2023 at Iowa in August. Chittum has a great future with the Hawks.
HWC Head Coach Daniel Dennis was a coach for Team USA for this tournament.
Great job and congratulations to our HWC wrestlers.
HWC results for Henri Deglane in Nice France
Austin DeSanto 61 kg – Gold
Quarters:6-3 win over Giorgi Goniashvili, GEO
Semifinals:14-13 win over Nahshon Garrett, USA
Finals: 5-4 over Shelton Mack, USA
Pat Lugo 65 kg – Gold
Rd of 16: Fall over Aminojon Sadulloev, POL
Quarters:4-3 over Nico Megerle, GER
Semifinals:6-2 over Matt Kolodzik, USA
Finals: 7-0 over Kizhan Clarke, GER
Cody Chittum 70 kg – Bronze
Quarters: 10-10 loss to Kevin Henkel, GER
Repechage: 16-5 over Muhannad Abdurachmanov, BEL
Bronze: 5-1 over Leon Gerstenberger, GER
Alex Marinelli 79 kg – Silver
Rd of 16: 10-0 over Callum McNeice, CAN
Quarters: 10-0 over Gabriel Ramos, ESP
Semifinals: 3-2 Evsem Shvelidze, GEO
Finals: 6-5 loss Evan Wick, USA
It was another great weekend of competition for our incoming recruits. Our recruits were a combined 17-0 with 17 pins. 12 of those 17 pins occurred in the first period. Impressive.
On Friday Kale Petersen won the HOI (Heartland of Iowa) Conference Tournament at 132. Petersen was 2-0 with two pins. Ryder Block won the always tough Ed Winger Classic. Block was 3-0 with three pins.
At the Bean City Duals both Gabe Arnold and Ben Kueter were 5-0 with five pins. Kueter did not spend much time on the mat. His five pins were in :09, :22, :37, :39 and :50. 
Keyan Hernandez was 2-0 with two pins at AA State Duals in Great Falls, Montana.
I will be back next week as several of our recruits will be competing in their conference tournament.
Now we can move on with Penn State week. Is it Friday night yet?
It is great to be an Iowa Wrestling fan.
Go Hawks!