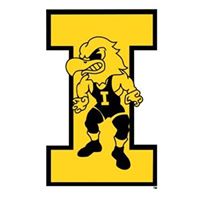 The Hawks will travel to Wisconsin for a Big Ten dual meet on Sunday, January 22 at 2 PM CST. Wisconsin is ranked #13 in tournament and #18 in dual meet and Iowa is #2 in both. As with all Big Ten duals there will be some very good matchups. As far as rankings go there shouldl be plenty of close matches.
At 125 #1 Spencer lee will face #6 Eric Barnett. Brody Teske or Cullan Schriever will face #28 Taylor LaMont. #2 Real Woods will have #26 Joseph Zargo at 141.
The three best matches of the meet will be at 149, 157, and 165. #7 Max Murin will go up against #2 Austin Gomez at 149. It will #21 Cobe Siebrecht vs. #18 Garrett Model at 157. Model just defeated #3 Kendall Coleman of Purdue 4-3 on Friday. And at 165 #10 Patrick Kennedy will face #6 Dean Hamiti. That is three big matches.
#16 Nelson Brands (174) and #8 Abe Assad (184) will face unranked opponents. 
At 197 it will be #8 Jacob Warner vs. #13 Braxton Amos. And at Hwt it will be #3 Tony Cassioppi vs. #11 Trent Hillger.
The Hawks looked real good in a 34-6 win over Nebraska on Friday. Iowa usually wrestles better on Sunday than on Friday when they have two duals in a weekend. This should be a great meet to watch.
#2 Iowa at #13 Wisconsin
Sunday, January 22
2 PM CST
Live on BTN
Mark Ironside and Steven Grace on 800 AM KXIC, iheartradio.com and hawkeyesports.com
125  
1/1/1 Spencer Lee RS Sr. Murrysville, Pa./Franklin Regional 8-0 
5/6/4 Eric Barnett Sr. Greenville, Wis./Hortonville 13-2
133 
Brody Teske Jr. Fort Dodge, Iowa/Fort Dodge (Penn State/UNI) 2-0 -or- –/18/– Cullan Schriever So. Mason City, Iowa/Mason City 7-6 
–/28/– Taylor LaMont Gr. Mapleton, Utah/Maple Mountain 7-9 -or Nicolar Rivera Fr. Stoughton, Wis./Stoughton 2-3
141 
2/2/2 Real Woods Sr. Albuquerque, N.M/Montini Catholic (Ill.) (Stanford) 7-0 
 –/26/– Joseph Zargo So. South River, N.J./Bergen Catholic 7-4 -or- Felix Lettini Fr. Clark, N.J./St. Peters Prep 2-6
149
11/7/8 Max Murin RS Sr. Ebensburg, Pa./Central Cambria 12-2 -or- Caleb Rathjen RS Fr. Ankeny, Iowa/Ankeny 4-3 
 2/2/2 Austin Gomez RS Sr. Carol Stream, Ill./Glenbard North (Iowa State) 9-1
157 
17/21/12 Cobe Siebrecht Jr. Lisbon, Iowa/Lisbon 7-1 
–/18/20 Garrett Model Gr. Stoughton, Wis./Stoughton 11-5
165 
9/10/9 Patrick Kennedy So. Kasson-Mantorville, Minn./Kasson-Mantorville 11-1 
6/6/6 Dean Hamiti So. Joliet, Ill./Joliet Catholic Academy 12-4 
174 
16/16/15 Nelson Brands Sr. Iowa City, Iowa/West 4-2 
James Rowley Fr. Corvallis, Ore./Crescent Valley 2-5 -or- Josh Otto RS Jr. Brookfield, Wis./Arrowhead 5-9
184 
9/8/8 Abe Assad Jr. Carol Stream, Ill./Glenbard North 13-1 
Tyler Dow RS Sr. Stoughton, Wis./Stoughton 4-9
197 
8/8/11 Jacob Warner Sr. Tolono, Ill./Washington 10-2 
17/13/13 Braxton Amos So. Mineral Wells, W.V./Parkersburg South 11-4 
285 
3/3/3 Tony Cassioppi Sr. Roscoe, Ill./Hononegah 14-0
10/11/12 Trent Hillger Gr. Holly, Mich./Lake Fenton 10-4
(WIN/InterMat/AWN rankings)
It is great to be an Iowa Wrestling fan.
Go Hawks!