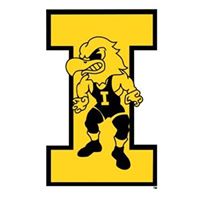 Three members of the Hawkeye Wrestling Club competed at the Ibrahim Moustafa Ranking Event in Alexandria, Egypt today. Cody Chittum (70 kg) won the silver, Austin DeSanto (61 kg) a bronze and Pat Lugo (65 kg) did not place.
Chittum had three solid wins to make the finals. A tech fall over Agudamu of China, a 6-3 decision over Budak of Turkey and a 14-9 decision over Nykyforuk of Ukraine. In the finals Chittum dropped a 10-0 tech fall to Akmataliev of Kyrgyzstan.
Chittum was the overall pound for pound #1 recruit in the country for the Class of 2022. He is taking a grey shirt year while training and competing for the HWC. He will enroll at Iowa in August with the Iowa Wrestling Recruiting Class of 2023.
DeSanto started the tournament with a tech fall over wrestlers from Egypt and Kyrgyzstan. He lost in the semifinals to Markovych of Ukraine. DeSanto qualified for the bronze medal match when Markovych made the finals. In the bronze match DeSanto pinned Phartenadze of Georgia in 3:22.
Lugo started with a 10-3 win over Mukhtar of Kazakhstan and a 5-1 decision over Grigorev of Poland. He then dropped a 5-2 match to Jalolov of Uzbekistan. Jalolov did not make the finals and Lugo was eliminated from the tournament.
HWC coach Daniel Dennis was on the coaching staff.
This tournament scored points towards the UWW Ranking Series standings that determines the seeds for the 2023 Senior World Championships and provided prize money to the medalist.
Team USA won the team title by a large margin over 30 countries.
Men's freestyle final team standings
No. 1 United States 155
No. 2 Ukraine 117
No. 3 Georgia 98
No. 4 Turkey 90
No. 5 Kazakhstan 78
61 kg: Austin DeSanto (HWC), BRONZE MEDAL
WIN Mahmoud Shorbaby (Egypt), 10-0, 0:48
WIN Ulukbek Zholdoshbekov (Kyrgyzstan), 17-1, 2:04
LOSS Taras Markovych (Ukraine), 10-0, 2:31
WIN Shota Phartenadze (Georgia), fall, 3:22
65 kg: Pat Lugo (HWC), DNP/7th
WIN Sanzhar Mukhtar (Kazakhstan), 10-3
WIN Eduard Grigorev (Poland), 5-1
LOSS Umidjon Jalolov (Uzbekistan), 5-2
70 kg: Cody Chittum (HWC), SILVER MEDAL
WIN Agudamu Agudamu (China), 11-0, 3:12
WIN Cuneyt Budak (Turkey), 6-3
WIN Ihor Nykyforuk (Ukraine), 14-9
LOSS Ernazar Akmataliev (Kyrgyzstan), 10-0, 4:57
It is great to be an Iowa Wrestling fan.
Go Hawks!