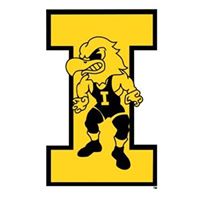 The NCAA released seeds and brackets for the 2023 NCAA Wrestling Championships. The Hawks have two wrestlers seeded #1 in Spencer Lee (125) and Real Woods (141). Tony Cassioppi is #4 at Hwt, Patrick Kennedy #6 at 165 and at 149 Max Murin is #8.
According to the seeds there are five Hawkeyes picked to become an All American.
Iowa is set to have some good matchups in round one and real big matches in round two.
I do not get caught up in the good draw vs. bad draw drama. Every wrestler is tough at this tournament. Every wrestler has to make their own way to be successful in a tournament where nothing comes easy. Everything is earned.
With that being said I must admit that I do not mind the draw for Assad and Warner. Actually I like it a lot.
The Iowa Hawkeyes have their entire team at Nationals and I am confident they will be ready to go. I could not ask for more.
The action starts next Thursday, March 16 at 11 AM CST. As a fan I cannot wait.
It's time to go.
Let's get 'em in the middle.
Seeds for Iowa
125 Spencer Lee – #1
133 Brody Teske – #24
141 Real Woods – #1
149 Max Murin – #8
157 Cobe Siebrecht – #14
165 Patrick Kennedy – #6
174 Nelson Brands – #11
184 Abe Assad – #12
197 Jacob Warner – #14
Hwt Tony Cassioppi – #4
Brackets for 2023 NCAA Wrestling Championships:
https://www.ncaa.com/_flysystem/public-s3/files/2023-ncaa-di-wrestling-brackets.pdf
NCAA Wrestling Championships in Tulsa, Oklahoma
Thursday, March 16
Session I – 11 AM
Session II – 6 PM
Friday, March 17
Quarterfinals – 10 AM
Semifinals – 7 PM
Saturday, march 18
Consolations – 10 AM
FInals – 6 PM
*All times listed are CST.
It is great to be an Iowa Wrestling fan.
Go Hawks!