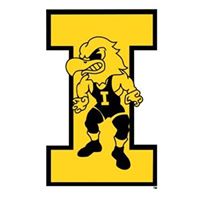 At the Lisbon Wrestling banquet last night legendary coach Brad Smith announced his retirement after 45 years of coaching. I am proud to say that Brad Smith was my wrestling coach. I am sure I will do more blogs on Coach Smith in the future. I have a lot to write about.
After being a successful three-sport standout (wrestling, football, and baseball) at Hersey High School in Arlington Heights, IL, Smith competed at the University of Iowa for Gary Kurdelmeier. In 1976 Smith won an NCAA National title at 142 lbs. for the Hawks. Coach Smith was on the first two NCAA titles ever won by Iowa Wrestling in 1975 and 1976.
Coach Smith began his coaching career at Lisbon in 1978 replacing another legend Al Baxter. Lisbon won seven traditional state titles in 13 seasons. Among his wrestlers was Royce Alger (Class of 1983) who went on to be a two-time NCAA National champion for Dan Gable at the University of Iowa.
Smith became head coach at City High School in Iowa City in 1991 and led his teams to three traditional state championships in 21 seasons. 
Coach Smith returned to Lisbon in 2012. Lisbon won the state title in 2018 that was the 12th state title in Smith's career. A record in Iowa high school wrestling history.
Earlier this year Coach Smith became the all-time winningest coach in Iowa high school wrestling history by winning over 700 duals in his career. 
With the most state titles and dual meets won I do not see how you can say there has ever been a better high school wrestling coach in the history of Iowa.
Coach Smith started at Lisbon when I was in sixth grade. I grew up seeing Iowa and Hawkeye Wrestling Club wrestlers at Lisbon. I still remember Coach Smith's first dual meet in 1978. There were Iowa wrestlers in the crowd including Randy Lewis. I got his autograph.
The gasp from the crowd in that first home dual meet when Coach Smith told a Lisbon wrestler to let his opponent up. It was 1978 and we had never seen that before in high school wrestling. It was quite a change.
I firmly believe Coach Smith was a big influence in Iowa high school wrestling going to more of a freestyle type approach in the 1980's with more of an emphasis on takedowns. Also the Iowa-style of wrestling made famous by Coach Smith's assistant coach at Iowa, Dan Gable. The footprint of Coach Smith's influence in Iowa High School wrestling is unmatched. All of that influence started from a small farming community of 1,300 with a 1A school.
Current Iowa wrestlers Cobe and Cade Siebrecht were state champions for Coach Smith at Lisbon. 
Coach Smith was the only wrestling coach at Lisbon until 1987. He alone coached the high school, junior high, and kids club.
I could go on and on with stats, stories, and memories and I will at another time. 
I will finish this blog up with a story Coach Smith told me in an interview a few years ago.
In April of 1978 Al Baxter called his friend J Robinson, an assistant coach for the University of Iowa. Baxter told Robinson that he was leaving Lisbon and wanted to know if he had any recommendations at Iowa. Lisbon had won five of the last six state titles and Coach Baxter wanted to leave the program in good hands.
Brad Smith was sitting in Robinson's office at the exact time of that call. Without that timing of being in that office I highly doubt Coach Smith would have ended up at Lisbon. Timing as they say is everything.
Coach Baxter was in charge of finding his replacement. He only interviewed one person. Brad Smith.
I am grateful that fate was on our side and Coach Smith was in J Robinson's office that April day in 1978. The influence, legacy, and history of that one event is beyond description.
Thank you and enjoy your much deserved retirement is all that I can say for now to Coach Smith.
Go Lions!
It is great to be an Iowa Wrestling fan.
Go Hawks!