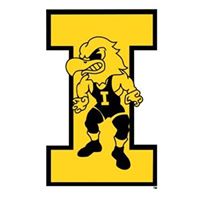 Iowa Women's Wrestling Coach Clarissa Chun has been selected to the National Federation of State High School Associations (NFHS) National High School Hall of Fame. Chun is one of four athletes named to the Class of 2023 Hall of Fame along with eight coaches and administrators.
The 40th induction ceremony of the National High School Associations (NFHS) National High School Hall of Fame will be in Seattle, Washington on July 1.
From NFHS.org:
In 1998, Clarissa Chun of Roosevelt High School in Honolulu, Hawaii, became the first wrestler to win an official state high school girls wrestling title – not only in Hawaii but the entire country – when she claimed the 98-pound title in the first year of the Hawaii High School Athletic Association's (HHSAA) girls division. Chun went on to win a second state title in 1999 and finished third in the 1999 United States Girls Wrestling Association High School Nationals.
In addition to wrestling, Chun qualified for HHSAA state tournaments in swimming and bowling, and she won five junior national championships in judo and also participated in water polo. She then went on to become a trailblazer for female wrestlers on many levels.
Chun qualified for the 2008 and 2012 Olympics and earned a bronze medal at the 2012 Games in London. She is a four-time U.S. Open champion, four-time Pan American champion and 2008 World Championships gold medalist. She is one of only four females bestowed with Distinguished Member honors when she was inducted into the National Wrestling Hall of Fame. She also was inducted into the Hawaii Sports Hall of Fame in 2018.
Chun's trailblazing career continued in early 2022 when she was named to coach the inaugural women's wrestling team at the University of Iowa – the first school among Division I Power Five conferences to offer the sport for girls. Chun will lead the team in its first official season in 2023-24.
Congratulations Coach Chun for receiving this honor.
It is great to be an Iowa Wrestling fan.
Go Hawks!