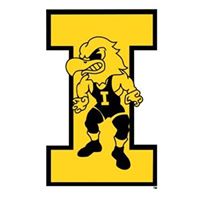 Willie Saylor of MatScouts released updated high school rankings. There were a few changes for the incoming Iowa Wrestling recruits.
Ben Kueter remains #1 in the PFP (Pound for Pound) rankings as the top recruit in the country and at 215. Kueter recently became the 32nd four-time state champion and the seventh to have an undefeated career record (111-0) in Iowa high school wrestling history.
On Monday Kueter was named as the Dan Gable Mr. Wrestler of the Year in 3A. Ryder Block and Gabe Arnold were the other two finalist for this award.
Ryder Block went from #3 to #2 at 138. Block recently won his third state title.
Gabe Arnold dropped one spot to #3 at 182. Arnold won four matches against #4 ranked Tate Naaktgeboren this season. The last match was in the state finals.
Kale Petersen is not ranked at 132 even though he defeated #15 Gable Porter this season. Petersen finished the season with a 32-0 record in winning his third state title. Petersen was named as the Dan Gable Mr. Wrestler of the Year in 2A.
Keyan Hernandez in the Class of 2024 won his third Montana AA state title.
I always want to remind you that Cody Chittum, the overall #1 ranked wrestler in the country for the Class of 2022, is on the way. Chittum will start classes this fall and be a member of the Iowa Wrestling Recruiting Class of 2023. Last Sunday Chittum captured the silver at the very competitive Ibrahim Moustafa Ranking Event in Alexandria, Egypt. This was an open division tournament with teams from 31 countries.
The future looks great for Iowa Wrestling.
Class of 2023
Kale Petersen – Greene County  132 lbs.
Not ranked.
Ryder Block – Waverly-Shell Rock  138 lbs.
#2 at 138
Gabe Arnold – City High (Iowa City)  182 lbs.
#3 at 182
Ben Kueter – City High (Iowa City)  220 lbs.
#1 P4P
#1 at 215
Cody Chittum 149/157 – #1 overall recruit in the Class of 2022 and will enroll with the Class of 2023 in August.
Class of 2024
Keyan Hernandez – Billings West (Montana)
Not ranked.
It is great to be an Iowa Wrestling fan.
Go Hawks!