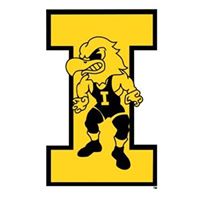 I started a series of blogs last year as a way of showing my appreciation for our seniors. I am going to continue with this and make a yearly tradition.
We have three seniors on this year's team that were all four year starters. Spencer Lee, Max Murin, and Jacob Warner.
I will start with Mad Max Murin at 149. Murin is one of several to make their way to Iowa City by way of the Young Guns Wrestling Club that produced a generation of elite wrestlers that we may never see from a wrestling club again. Murin went to the same high school as Jody Strittmatter, Central Cambria in Ebensburg, Pennsylvania. 
If there is a Iowa Wrestling Grinder Hall of Fame, Murin makes it on the first ballot. This guy is the epitome of a grinder that was always working hard. On the mat in competition and in the practice room. 
After being so close several times in the Round of 12 Murin just placed sixth at Nationals to become an All American. His name will forever be on the wall for All Americans in the legendary Iowa Wrestling room that is moving to a new location next year. The name of Max Murin is etched in Iowa Wrestling history as an All American.
The way that Murin carried himself on and off the mat and was always working hard reminded me of another Hawkeye favorite of the recent past, Brandon Sorensen. The wrestler that Murin replaced in the lineup. Speaking of which Iowa has sent out either Brandon Sorensen or Max Murin on the mat at 149 for the last nine seasons. Opponents and fans knew that we were going to see a battle every single time. That is quite a tradition.
I interviewed Jody Strittmatter for my blog in June of 2017. 
What can Iowa Wrestling fans expect out of Spencer Lee and Max Murin?
Strittmatter: They love the sport of wrestling, number one.  They are workers.  They want their shoes on all day long.  They are the kind of kids that you have to tell that practice is over and you have to get home.  They are passionate about the sport.  They have different styles but are both passionate about the sport and getting better.  Off the mat they are amazing kids.  These are the type of kids that you want your son to become like them.  I'm not talking about anything to do with wrestling.  The type that I want my son to become like him.  Just awesome kids.
Strittmatter told me a few Max Murin stories that day that I would like to share. If I remember right Murin did not win a wrestling tournament in his career until late in his junior year or even senior year of high school. He was surrounded by state, national, and even world champions in Young Guns but he did not have elite success. That is a story for wrestling coaches to be telling their team or impatient parents.
The club had been at a big state tournament for middle school for the weekend. They got home late on a Saturday night around midnight. Murin did not place at the tournament. Strittmatter woke up around six the next morning to someone knocking on his door. It was Max Murin wanting to lift weights in his basement. The season was officially over and Murin was up to lift weights the next morning.
Stories like that made me a Max Murin fan.
Off the mat Murin accumulated academic awards including Academic All-Big Ten in 2020, '21, and '22. Big Ten Distinguished Honor and NWCA Scholar Athlete. 
Murin has already graduated from the University of Iowa with a Bachelor of Arts degree in Criminology, Law, and Justice. He is currently working on a master's degree in Sports and Recreation Management.
Regardless of what field Murin goes into, I hope that coaching wrestling is a part of his life. Murin would make a great coach at any level from kids club to Division I.
Murin has represented Iowa Wrestling so well over his entire career. Fans like me appreciate the effort and grind on and off the mat. I have no doubt that Max Murin will continue to be successful throughout his life.
Good luck and thank you Max Murin.
It is great to be an Iowa Wrestling fan.
Go Hawks!