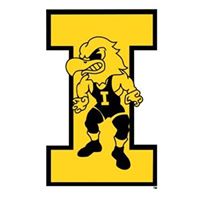 Three Iowa wrestlers competed at the World Team Trials Tournament this weekend at Discovery Canyon High School in Colorado Springs, Colorado.
Austin DeSanto placed third at 61 KG. After dropping a semifinal round loss to Nahshon Garrett by a 10-0 tech fall DeSanto won two matches in consolations. He defeated Aden Valencia 7-0 and Nathan Tomasell by a 15-4 tech fall to place third.
At 125 KG Tony Cassioppi dropped a quarterfinal round match to Mason Parris 10-0. In the consolations Cassioppi scored a 14-3 tech fall win over Demertius Thomas and then lost a 4-1 match to Dom Bradley. Cassioppi, already a four-time All American, will be a senior next season for the Hawks.
Austin DeSanto and Tony Cassioppi both represented the Hawkeye Wrestling Club. 
Kylie Welker, competing for the Hawkeye Women's Wrestling Club, placed third at 76 KG, Welker pinned Tristan Kelly in the quarterfinals. In the semifinals Welker lost 14-3 to six-time World champion Adeline Gray. In the consolation semifinals Welker pinned Precious Bell. In the consolation finals Welker won by a 12-2 tech fall over Yelena Makoyed.
That was three big wins for Welker who just finished her true freshman season for the Hawks. Great future for Kylie Welker for Iowa Wrestling and Team USA.
It is great to be an Iowa Wrestling fan.
Go Hawks!